What Can I Study in College That Pays a Lot?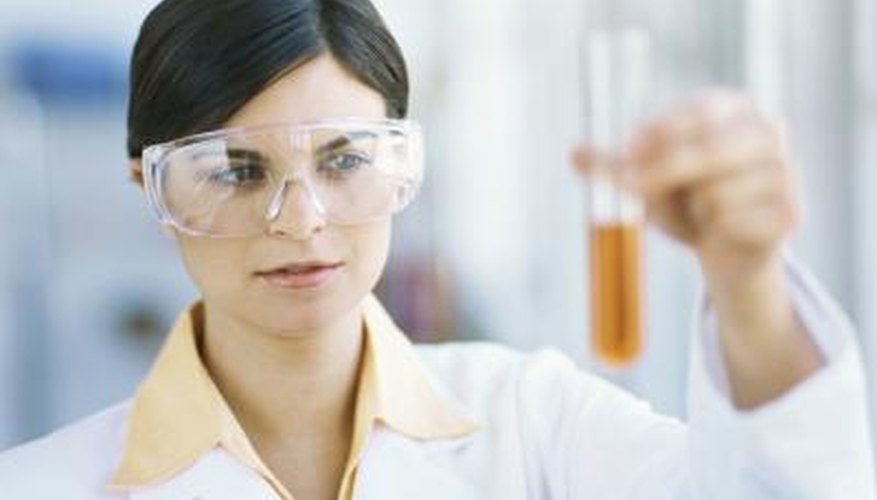 If you are a current or incoming collegian hoping to turn your degree into a high-paying career, there are three academic programs worthy of your consideration: life science, engineering and marketing. Studying one of these fields will give you access to a broad spectrum of professional options with degree requirements that range from associate degrees to doctorates. And these academic programs yield some of America's top returns on the investments of time and work that you will begin making in the college classroom.
According to Forbes, nine of the 10 most lucrative professions in 2012 were in medicine and dentistry. Most pre-med and pre-dental students choose a life science major as undergraduates. You will also need to earn a doctorate in the field of physical, mental or oral health you want to practice. But the payout for that investment of time and effort can be staggering. Anesthesiologists are America's best-paid workers. Their average salary in 2012 was $232,830. Surgeons, obstetricians and gynecologists, and oral and maxillofacial surgeons all earned over $200,000, as well. There is an extra financial factor to consider if you are contemplating a career a medical or dental career: the cost of malpractice insurance. Discuss professional insurance costs with your academic advisers. Medicine and dentistry remain the highest-paid fields in spite of this overhead cost, and many hospitals cover this expense for their doctors. People with degrees in health and general science have some of the highest success rates when it comes to finding employment right after graduation. And, thanks to the ever-increasing and ever-aging American populace, the projections for job growth in medicine and dentistry are likewise among the economy's best, which means that those high-paying jobs will not be rare in the years to come.
2
Radiology or Dental Hygiene
If you do not want the time, monetary or academic commitments of a doctoral program, you still have some high-income career options in medicine and dentistry. In 2010, the U.S. Bureau of Labor Statistics ranked diagnostic medical sonography and dental hygiene as the 11th and 21st fastest-growing jobs, respectively. Both jobs only require associate degrees and, in most cases, professional licensure. An aspiring medical sonographer will primarily study radiology during her two years of college; a student earning an associate degree in dental hygiene will dedicate most of her time to oral health classes . While becoming a medical sonographer or dental hygienist requires a lot less time and tuition than becoming a doctor or dentist, the future earnings are still impressive. In 2010, the average salary for diagnostic sonographers was $64,380, while dental hygienists earned $68,250.
3
Engineering: Biomedical
In April 2013 the National Association of Colleges and Employers reported that seven of the 10 highest-paying college degrees are in engineering. Similarly, engineering majors joined health and general science students on U.S. News and World Report's list of students who have the most success finding jobs after graduation. Not surprisingly, biomedical engineering -- where medicine and engineering intersect -- is increasingly in demand and well-paid. In 2010, the median pay for biomedical engineers was $81,540, which they earned for an array of jobs that included designing prosthetic limbs, growing transplant tissue, developing medications or simply conducting medical research. CNN Money ranked the occupation as the best job in America in 2012, in part because of the academic freedom the profession allows its future members. The coursework, like the job, bridges the gap between life science and engineering, but students who study electrical, mechanical or chemical engineering can just as easily enter the field. They can enter the workforce with only a bachelor's degree, though many pursue advanced degrees.
4
Engineering: Petroleum and Others
Petroleum engineers bridge the gap between geology and engineering, overseeing oil and natural gas drilling operations. The National Association of Colleges and Employers cited petroleum engineering as the highest-paying degree; the average starting salary as of 2013 was $93,500. There are many other well-compensated fields of engineering: computer, chemical and aerospace engineering all have average starting salaries over $60,000.
The best-paid jobs aren't limited to science and engineering. Marketing offers many of the same employment perks that science and tech jobs have. Marketing managers were 13th on the BLS' 2010 list of highest paid workers, with a median salary of $112,800; market research and analysis are also among the fastest growing jobs in America. It was one of the few job sectors outside of science and engineering that appeared on U.S. News and World Report's list of fields with low unemployment rates for new graduates. While marketing is largely a numbers game concentrated in statistics and economics, a future consultant can also benefit from studying communication, sociology, psychology or even art. Marketing requires creativity and an understanding of how people operate in the marketplace. The job is also widely applicable -- market research has become standard in nearly every sector of economy, allowing someone with a bachelor's degree in marketing to indulge her passions in other fields like science, publishing, travel, food, sports or entertainment.
6
2016 Salary Information for Dental Hygienists
Dental hygienists earned a median annual salary of $72,910 in 2016, according to the U.S. Bureau of Labor Statistics. On the low end, dental hygienists earned a 25th percentile salary of $60,500, meaning 75 percent earned more than this amount. The 75th percentile salary is $86,390, meaning 25 percent earn more. In 2016, 207,900 people were employed in the U.S. as dental hygienists.