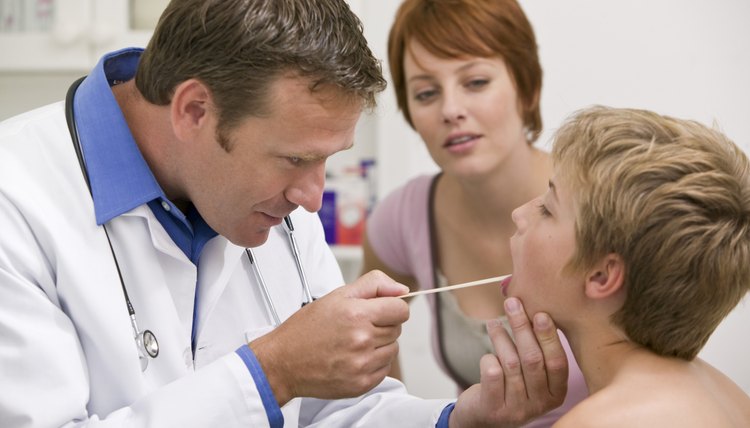 An ear, nose and throat doctor has a medical degree.
Ear, nose and throat doctors, often called ENTs, need a medical degree and a license to practice in their state. ENTs study ear, nose and throat conditions, referred to as otolaryngology, and make diagnoses, prescribe treatments and perform surgeries related to the head, neck, face and throat. During their residency at a hospital or medical facility, medical school students train and have hands-on experience with patients under the direct supervision of licensed doctors. Even though ENTs specialize in their field, they are educated, trained and equipped to handle other medical concerns, including life-threatening emergencies.
Undergraduate Degree
Ear, nose and throat doctors need an undergraduate degree to gain acceptance to most medical schools. Undergraduate pre-med students often major in biology, anatomy, chemistry or biochemistry, but some medical schools accept students with other undergraduate majors. A bachelor of science degree generally prepares students for medical school more than a bachelor of arts degree. Most undergraduate schools offer 4-year bachelor degree programs, but some students might finish early if they take advanced course loads or have high school classes that count toward their college education.
Medical Degree
Pre-med students must gain acceptance, enroll and graduate from a medical school program to become an ear, nose and throat doctor. Even though there's not a specific ear, nose and throat medical degree, students graduate with a doctorate in medicine that enables them to enroll in a residency or internship program. Most medical school doctorate programs take 4 years to complete. Medical schools are highly competitive, so students need strong undergraduate grades, passing scores on the Medical College Admission Test (MCAT) and letters of recommendation, according to the U.S. Bureau of Labor Statistics.
Residency
Medical school graduates must enter a residency program at a hospital or medical facility to train under the supervision of licensed medical doctors. ENTs must enroll in a residency program that specializes in ear, nose and throat conditions, treatments and surgeries. According to the BLS, residency programs can last anywhere from 3 to 8 years, depending on the specialty. For example, ear, nose and throat doctors must complete a 5-year residency when studying at Loyola University in Chicago. Upon completion of their residency, graduates can apply for a license to practice in their state.
Specialty Training and Coursework
ENTs have ear, nose and throat anatomical coursework in medical school and observe ear, nose and throat surgeries during their residency. ENTs treat conditions that affect hearing loss, sinus conditions, inner-ear balance issues, speech problems, swallowing troubles and breathing concerns. They must also observe procedures so they're qualified to perform surgeries, such as tonsillectomies, ear tube insertions, sinus surgeries, thyroid-related surgeries and head or neck cancer-related surgeries, according to Cooper University Health Care.
Photo Credits
Jupiterimages/Goodshoot/Getty Images