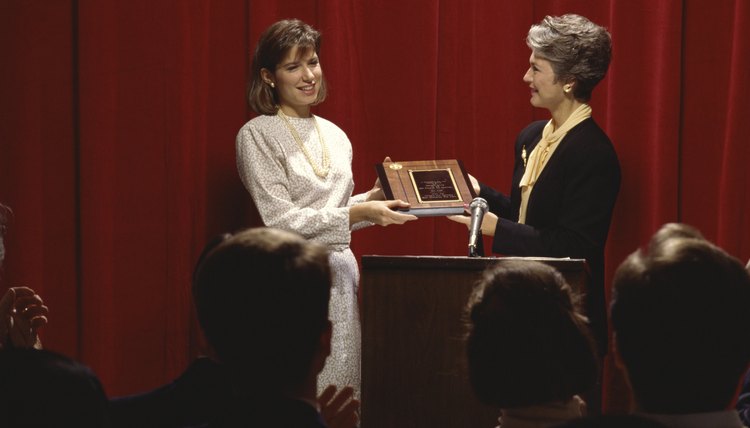 Present or accept an award with honor and a well written speech.
Presenting an award is almost as much of an honor as receiving it. Awards are a tangible symbol of recognition for an accomplishment or a job well-done. Presenting or accepting an award may be an honor, but coming up with a speech is a challenge. Consider some ideas for an award speech to assure that special moment won't be overshadowed by a tongue-tied presentation or a faux pas.
Humor
Some poeple are intimidated when given the task of speaking in public. Use a joke or story to lighten the mood and to put both the speaker and audience at ease. Your joke could be as simple as a one liner found in a book or can be a good-natured jab at the speaker himself. Avoid off-colored humor that is sexiest, racist or potentially offensive to anyone in the audience. Short and humourous stories about the speaker's children or pet is something a lot of people can identify with.
Explanation
Both an award presenter and the the person who receives the award should have a solid knowledge of the significance of the award. The presenter should give details about how the winner was selected and about why winning the award is a worthwhile honor. For instance, a presenter could tell the audience that the winner was chosen out of a group of 100 potential nominees. A presenter should explain that the award was given to the winner because she made the most sales or met her goals or because she was voted on by her peers. The recipient of the award should detail why he feels so honored to win the award and recognize the accomplishments of the other nominees.
Introduction
A presenter should introduce himself as soon as he steps to the podium. He should give his name, position and why he is presenting the award to establish credibility. Establishing credibility is important, as it helps the audience to understand why the presenter was chosen for the task. For instance, the presenter might be an expert in the same career field as the award recipient and therefore knows the person and her accomplishments first hand. A presenter may be a personal friend of the recipient or even a fellow nominee for the award. A presenter should also introduce the winner of the award by giving background information about him for those in the audience who may not be familiar with the winner.
Other Ideas for an Award Speech
Use photo slides and other props as visuals during an award speech. Show pictures of past winners of the awards or some of the current winner's significant accomplishments. Refer to the photos in a speech to help the audience follow along.
An acceptance speech should include a message of thanks. A recipient should thank parents, spouses, children, co-workers, mentors, bosses and colleagues. Other people to thank include corporate sponsors and other award nominees.
Photo Credits
Jupiterimages/Photos.com/Getty Images
Cite this Article
Choose Citation Style
Kelley, Stephanie. "Ideas for an Award Speech." Synonym, http://classroom.synonym.com/ideas-for-an-award-speech-12084274.html. 29 September 2017.
Kelley, Stephanie. (2017, September 29). Ideas for an Award Speech. Synonym. Retrieved from http://classroom.synonym.com/ideas-for-an-award-speech-12084274.html
Kelley, Stephanie. "Ideas for an Award Speech" last modified September 29, 2017. http://classroom.synonym.com/ideas-for-an-award-speech-12084274.html
Note: Depending on which text editor you're pasting into, you might have to add the italics to the site name.