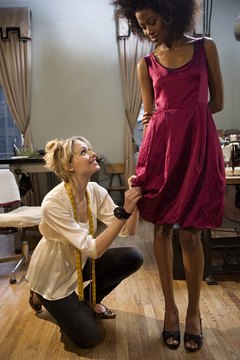 Fashion designers must learn how to take measurements.
Fashion designers create clothes and other accessories. If you are an aspiring designer, you might plan to go to design school after graduating from high school or move to a big city for an internship at a fashion design house such as Chanel or Versace. But high school isn't too soon to start practicing your craft, and there are many classes that will help you prepare for your career as a fashion designer.
Family and Consumer Sciences
Fashion designers need to know how to sew. Although many famous designers no longer do the actual sewing of garments, most beginning designers sew their own clothes, and this is a skill students need to perfect if they want to apply to design schools for college. According to the Public Schools of North Carolina, a family and consumer sciences class will teaches students to sew apparel and textiles. Students will also learn many of the basics of fashion design, such as how to draw, create patterns and make alterations to your garments.
Art
Most fashion designers are able to sketch out the outfits they want to create. They have to understand the human form and how their clothes will drape over it. This is why taking art classes is important for aspiring fashion designers. Students learn about light, complementary colors, perspective and shading, and all of these concepts can be applied to your designs. Studying art history is also useful for fashion designers. Students need to know about fashion from different time periods because style is often cyclical. You can find popular style elements from 200 years ago in use today.
Math
Most people don't associate math with fashion designers. But if you don't know how to take proper measurements and understand proportions, your designs will not turn out very well. Fashion designers need to be able to measure sample garments and understand where they need to add or subtract fabric to make the clothing fit correctly. According to +Plus Magazine, an understanding of geometry is also important. When you draw a garment, it is in 2D, but you are creating it for the 3D human form.
Business and Technology
If you have entrepreneurial ambition, you should take some high school business and technology classes. These types of classes teach the fundamentals of accounting, and marketing, including how to professionally communicate with clients. According to an article by fashion media and marketing editor Rachel Arthur in The Telegraph, small designers without a lot of money should be able to utilize technology. Not only do many designers sketch on tablets such as the iPad, but understanding how to create and deploy a Web page can help you find clients for a burgeoning business. Basics of Internet marketing, such as understanding what search engine optimization is, will help clients locate you on Google. By taking high school business and technology classes, you will have a general understanding of these concepts.
Photo Credits
Leonard Mc Lane/Digital Vision/Getty Images