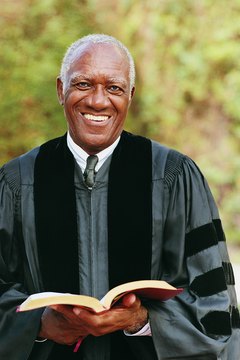 Divinity schools big and small train students for entry into the ministry.
Divinity schools serve to educate students for possible careers in the clergy. Divinity schools may also graduate students who then become professors. According to the Yale News, applications to divinity schools are on the rise. There are many divinity schools in the United States to choose from, and a variety of ranking agencies name top schools nationwide.
Ranked Southern Schools of Divinity
Duke University, located in Durham, N.C., is ranked the best divinity school in the country by "First Things" magazine, which has been ranking divinity schools for nearly 10 years. It is also ranked in the top ten universities in the "U.S. News & World Report" 2014 Best Colleges List. The university, founded by the Methodist church, offers both master's and doctoral programs in the divinity school. A bachelor's degree in religion is also offered. Duke has degree concentrations in prison ministry, Baptist and Anglican studies, and gender, theology and ministry. Emory University in Atlanta, ranked 20th in the nation in the "U.S. News & World Report" list of best colleges, has a divinity school that offers several different master's degrees, and dual degrees in theology with a Master's in Business Administration or a law degree. Bachelor's degrees in religion are also offered at Emory.
Midwest Schools of Theology
The University of Notre Dame Theology School near South Bend, Ind., was ranked second in the "First Things" rankings and fourth in the theological school rankings done by Share Faith. Notre Dame is ranked 18th in the "U.S. News & World Report" college rankings.The university stated that their education is grounded in the educational traditions of the Catholic church, but students from many faiths study at the theological school. Notre Dame offers master's and doctoral degrees with concentrations in Christian and Jewish religious history, world churches and religions and peace studies. The university also offers a bachelor's degree in religious studies. The University of Chicago ranked in the top 20 theology schools in the nation and fifth nationally as a university by "U.S. News & World Report." The University of Chicago offers master's and doctoral degrees in theology, and specializes in the five major world religions.
Ranked East Coast Theology Schools
Princeton University in Princeton, N.J., is ranked the best national university in the country by "U.S. News & World Reports". Princeton has two degree programs that differentiate it from the others. Princeton offers a master's program combined with a master's in education of youth ministry. Also, Princeton offers a master's degree in theology combined with a master's degree in social work. Boston University, ranked in the top 40 universities in the U.S. News and World Report, and also listed among the top 20 theological schools, has a sacred music and divinity dual enrollment master's program. Boston University also has bachelor's programs in religion and religious and theological studies. Religion is also offered as a minor.
Theology Schools In The West
Pepperdine University, ranked in the top 100 national universities in "U.S. News & World Report" has religious study programs, both undergraduate and graduate. Pepperdine requires that its graduate students study a foreign language as part of their program of study -- usually the language must be tied to the Bible. Stanford University, ranked fifth in the "U.S. News & World Report" rankings, offers undergraduate and graduate programs in religious studies. There are centers on the Stanford campus to study Buddhism, Islam, Judaism, and Christianity in the Middle Ages in conjunction with a religious studies major.
Photo Credits
Digital Vision./Digital Vision/Getty Images