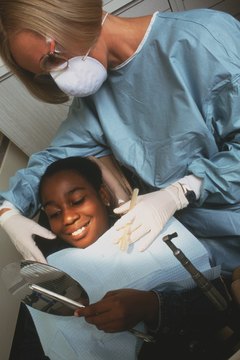 Some dentists specialize in pediatric dentistry.
Americans are keeping their teeth longer than previous generations and placing more importance on dental health. However, as the population ages, many seniors will need advanced procedures such as implants. As a result, the U.S. Bureau of Labor Statistics predicts a 21 percent increase in positions for dentists between 2010 and 2020, more than the 14 percent average for all jobs.To join this growing profession, you need both undergraduate study and four years of dental school.
Undergraduate Requirements
Some dental schools admit students with three years or less of undergraduate study, but most applicants should finish a four-year bachelor's degree first, according to the American Dental Education Association's Go Dental website. Most predental students major in biology or science, but no specific major is necessary. However, you must complete the admission requirements of the program you wish to attend. Dental schools usually require two semesters or three quarters each of biology, physics, general chemistry and organic chemistry, with lab sections for all. Some dental programs also require English, biochemistry or microbiology, and most require the Dental Admission Test.
Dental School Curriculum
Dental school normally takes four years and culminates in a doctor of dental surgery or doctor of dental medicine degree. The two degrees are equivalent, according to the American Dental Education Association, and normally require classes in anatomy and physiology, microbiology, pharmacology and biochemistry, plus other courses focused on the anatomy and diseases of the mouth and teeth. Additional classes cover clinical subjects, such as the diagnosis and treatment of dental diseases, practice management and dental ethics. Including undergraduate work, dental school brings the typical dentist's investment in higher education to eight years.
Clinical Work
Students begin practicing their clinical skills on models during the first two years of dental school. During these early years, students in most programs also give basic dental care to actual patients. During the third and fourth years, prospective dentists spend a larger portion of their time learning clinical skills. Working under the supervision of licensed dentists, they do rotations in dental school clinics, community health centers and hospitals, where they diagnose diseases and plan and give treatments. For example, they apply fillings, perform oral surgery and give periodontal treatments.
Residency and Licencing
In every state, dentists must receive a license to practice although the requirements vary. In some states, all dentists must complete an additional year or two of general residency to qualify for licensing. Whether or not you need a residency, the requirements usually include both a written and practical test. A dentist can also complete an optional residency to qualify for a certification in a specialty, such as orthodontics. Specialty residencies normally take between two and four years, and state certification in the specialty sometimes requires an additional exam.
Wages
Graduates of dental programs earn high wages in return for their years of professional education. The average full-time annual income for a general dentist was $163,240 as of 2012, according to the U.S. Bureau of Labor Statistics. The majority of dentists worked in dental offices, where they averaged $166,280 per year. The bureau's wage statistics don't include the earnings of self-employed dentists.
2016 Salary Information for Dentists
Dentists earned a median annual salary of $158,390 in 2016, according to the U.S. Bureau of Labor Statistics. On the low end, dentists earned a 25th percentile salary of $110,030, meaning 75 percent earned more than this amount. The 75th percentile salary is $201,830, meaning 25 percent earn more. In 2016, 153,500 people were employed in the U.S. as dentists.
Photo Credits
Dick Luria/Photodisc/Getty Images