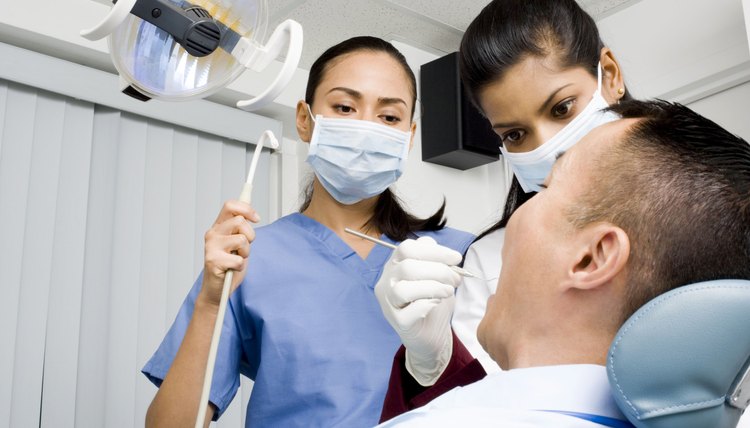 Dental hygienists need to understand dental anatomy and how to communicate with patients.
Dental hygienists practice alongside dentists protecting and cleaning teeth and gums, treating dental problems and educating patients about good oral hygiene. High school students are not too young to start planning for their careers. If you know that you want to be a dental hygienist, you can start by making sure you take relevant high school classes. According to the Bureau of Labor Statistics, although the licensure requirements differ by state, most states require you to get an associate's degree in dental hygiene before practicing.
Biology
In college dental hygienist classes you will study subjects like dental anatomy, radiology and pain management. You cannot take such specialized courses in high school unless you attend a trade school. However, biology classes will cover the anatomy of the human body. High school biology is not likely to explore dental anatomy in depth, but you can check with your teacher to see if you can do an independent project.
Speech
Dental hygienists spend a lot of time with nervous or uncomfortable patients. It is important to know how to communicate effectively with patients. Speech classes will help you practice your conversation skills on a variety of topics. According to the Pima Medical Institute, communications classes are also included in college dental hygienist programs.
Technology
Most dental practices use sophisticated computer systems to keep track of patient records and scheduling. In addition, hygienists should know how to pull up x-rays on the computer for the dentist to examine. High school technology classes can prepare you to use medical record systems by enabling you to become comfortable with computers.
Chemistry
The American Dental Association says that high school chemistry will be beneficial in a dental hygiene career. Hygienists work with various chemicals that clean the teeth and gums so it important for them to understand the chemical make-up of these substances and how they may interact with a patient's body.
Health
One of a dental hygienist's primary jobs is to educate patients about proper care of their teeth and gums. Taking high school health and nutrition classes will help you learn about gum disease and plaque, and how these problems can affect other parts of the body. A hygienist often spends more time with patients than does the dentist, so he or she should be able to explain how to care for the teeth and gums in a personable, knowledgeable way.
Photo Credits
Creatas Images/Creatas/Getty Images