Handprint Christmas Crafts for Preschoolers
26 SEP 2017
CLASS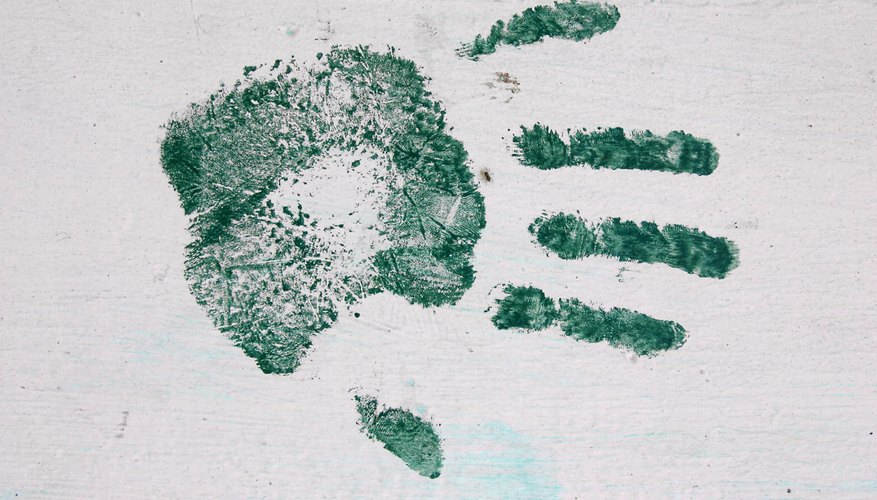 Hemera Technologies/AbleStock.com/Getty Images
Preschoolers know how to use their hands to dress themselves, hold things and to draw. What they may not realize is that they can also use their handprint to make art and craft projects, such as animal shapes and wreaths. Get your preschooler into the holiday spirit by showing her how to create decorative Christmas crafts with her handprint.
1
Handprint Christmas Trees
To make a painted hand print Christmas tree, let your preschooler dip her hand in green paint, and then press it on the bottom center of white construction paper. Make two handprints above the first, then three handprints above that. Turn the paper upside down to see the Christmas tree shape. Have your preschooler paint colorful circles on the tree for ornaments and use glitter glue as a garland. Paint a star at the top.
For another type of hand-Christmas tree, trace your preschooler's hand several times on light- and dark-green construction paper. Turn the hands upside down and glue them together on a large sheet of construction paper to make a Christmas-tree shape. Decorate the tree with red and green fuzzy balls.
For a simple, handprint reindeer, press your child's hands in brown paint and then on white paper. Once dry, add googly eyes, a fuzzy ball nose and a smile in the palm. The fingers and thumb make the antlers.
Another option is to trace your preschooler's hand on brown construction paper and cut it out. Make nine more paper hands to represent the nine reindeer who pull Santa's sleigh, including Rudolph. Turn the handprints upside down so that the thumbs are the head and the four fingers are the legs. Add googly eyes to each thumb and draw on a smile. Hole-punch the top of each thumb and loop a small piece of brown pipe cleaner through it for the antlers. Add a red nose on one for Rudolph.
For a handprint wreath, have your preschooler press her hand covered in green paint on white paper to form a circle. Add red fuzzy balls for the cranberries. You can also trace your preschooler's hands on green construction paper and cut out several copies. Glue the hands together so that they overlap each other and they are all going in the same direction to create the wreath.
For more variety, use different materials for the wreath other than construction paper. For instance, you can use decorative red and green tin foil glued to posterboard for a shiny wreath. To create a hand wreath picture ornament, glue the handprints around a favorite picture of your preschooler. Hole-punch the top and loop a string through for hanging.
4
Handprint Snowmen Gift Wrap and Ornaments
Your preschooler can make her own decorative wrapping for gifts by decorating brown craft paper with finger snowmen. Press your preschooler's thumbs in white paint, then onto the kraft paper to create short, round snowmen shapes all over the kraft paper. Use colored markers once the paint is dry to give each snowman a face, arms and a hat.
For a Christmas ornament, press your preschooler's entire hand in paint, then place a dark-colored, round Christmas ornament in her palm. Have her close her hand around it and release. The ornament should now look like four tall snowmen and one short snowman sitting on a blanket of snow. Help her carefully decorate the snowmen using colored permanent markers.