Credits Required for an A.A. Degree
26 SEP 2017
COLLEGE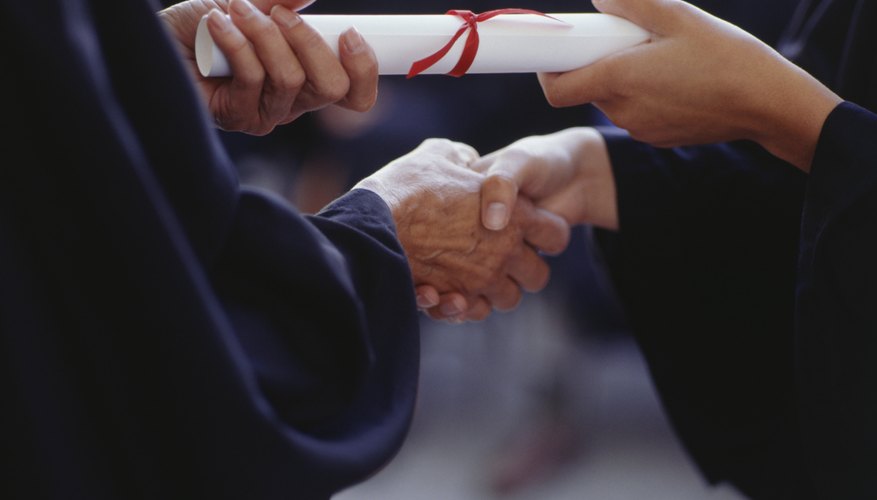 Ryan McVay/Photodisc/Getty Images
Students receive an Associate of Arts, or A.A., after completing approximately 60 semester credits of classes, typically from community colleges or technical schools. Obtaining the A.A. degree allows graduates to enter the workforce or transfer to four-year universities for further study. Although the specific requirements for the A.A. degree vary by institution, programs typically demand broad-based, general course work.
Schools usually require A.A. students to pass a college-level math class for the degree. Options include college algebra, trigonometry and calculus. Since A.A. degree seekers select majors that do not require upper-level math and science skills, schools often offer alternative courses such as math for liberal arts majors. Some allow a substitution of a business statistics course, which may be more appropriate for social studies majors than traditional math. If you intend to transfer to a university, you may need to take college algebra.
Associate of Arts degrees also require at least one science course, often two. In order to count toward graduation, science courses sometimes must include a lab component, and some universities require a laboratory science for transfer. A.A. students may typically choose from courses in biology, chemistry, astronomy, environmental science, anatomy and physiology, earth science, zoology, botany, physical science, geology and physics. Schools may offer several options within each general type of science, such as organic chemistry or Chemistry I and II.
Most A.A. programs also include nine credits of communications classes. These consist of two writing classes, usually with one focused on research, and a speech course. Some schools allow students to substitute one of the college composition classes with a technical writing course that teaches more about writing in the workplace as it fits the individual's career as opposed to more general writing. The speech component may be the traditional individual presentation course or group communications.
4
Other General Education
To round out the general education base, students take courses in humanities and social sciences. Humanities courses include literature, art history, music appreciation, film, philosophy, religion, western civilization studies, ethics and general humanities. Social and behavioral sciences classes include psychology, sociology, history, geography, economics and government. Each of these type of classes may have various options such the different psychology titles Child and Adolescent Psychology, Abnormal Psychology, Social Psychology and Human Sexuality. Students typically need to take between six and nine credits in each of these two categories.
Some schools may require a foreign language, diversity or physical education class. Students often must take certain courses to fulfill the major requirements, as well. For instance, for the A.A. in Business Administration from Des Moines Area Community College in Iowa, students take 23 business credits including accounting, economics and general business classes. Similarly, students aiming for an A.A. in Anthropology from Community College of Aurora in Colorado must enroll in four anthropology classes. The remaining credits, up to the 60 or so required for the associate degree, come from electives. Students typically may choose any college-level courses as electives, meaning credits count toward graduation as long as the classes are not preparatory.