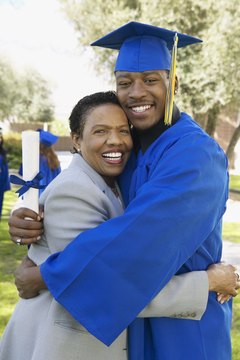 You have some control over the length of your master's program.
A master's degree is an advanced professional degree typically pursued by someone looking for career growth or a career transition. The timeline to complete a master's varies somewhat based on the type of program, vocational field and student schedule, but it usually takes between one to five years.
Credit Hours
A key driver of the length of study for a master's degree is the number of credits required. Programs vary significantly by field and college. A master's of business administration, or MBA, usually ranges anywhere from 30 to 60 credits. A full-time student can normally complete the 30 credit program within a calendar year, but it would typically take at least two years for the 60 credit degree.
Broad or Specialized
Some master's degrees are broad while others are more specialized. Business grads may pursue the broad MBA degree or elect specialized, shorter programs in areas like accounting, finance, management or marketing. Similar opportunities for general or specialized programs exist in other fields like sociology, English, history, math, economics and engineering. The broader degree usually requires more credits, takes longer and offers more flexibility. A specialized program has fewer credits, is shorter and may have more benefits in a specific career area.
Full-Time or Part-Time
The time to completion for a master's is significantly impacted by whether you take a program on a full-time or part-time basis. Full-time students can often complete programs in one to two years, depending on the number of credits. Part-time master's degree may take anywhere from two to five years, which is what the New York University School of Continuing and Professional Studies indicates for its incoming graduate students.
Other Factors
Your own scheduling capacity and flexibility as a student impacts your program timeframe as well. A full-time student who takes maximum credits each semester and a full load in the summer would likely finish ahead of a student who completes the minimum credit requirements for full-time status and skips the summer. A part-time student taking one class each semester would naturally take longer than one who pushes for two or three. Some schools also offer interim, expedited courses between semesters to speed up your process.
Photo Credits
Digital Vision./Digital Vision/Getty Images