Art Projects on Santa Claus for Toddlers & Preschoolers
26 SEP 2017
CLASS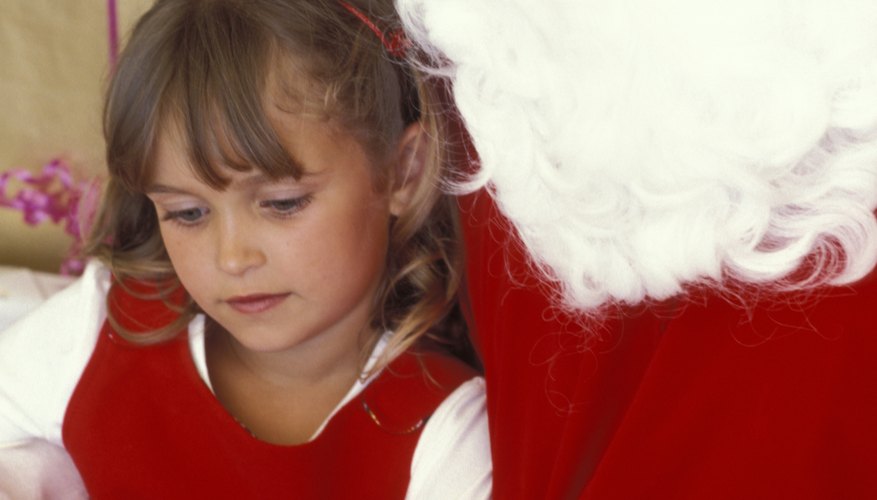 Pixland/Pixland/Getty Images
Santa doesn't need to call out "Now Dasher, Now Dancer, now Prancer and Vixen -- Dash Away, Dash Away, Dash Away All" to capture the interest of any little munchkin. No matter what time of year you bring out Santa art projects, visions of sugarplums might appear and your tot will beg for a letter to Santa, if you bring out the activities in the middle of July. When you're working on the art projects at Christmas time, teach your little one about the value in giving -- and have her make a special art project for a special friend or family member, too.
Santa loves cookies, so what better way to honor him at Christmastime than with Santa-shaped cookies. Prepare a batch of sugar cookies together, cut out the dough in Santa shapes and then bake and cool the cookies. And now for the art activity – give your little artist some red and white icings in bowls, red and white edible glitter or sugars and some candies for Santa's eyes, nose and mouth. Let him transform the plain Santa-shaped cookies into edible works of art and then see how long the two of you can resist devouring the tasty treats.
Let your own little toddler or preschooler feel like a "jolly old soul" with her very own customized Santa hat. Start with a basic Santa hat from a discount or thrift store and let her decorate it with the fabric pens, markers or paints. If she would rather have a Santa's hat to decorate the fridge or her bedroom wall, cut the hat shape from a piece of red construction paper. Cut a thin white cloud shape from white construction paper and a little circle for the top of the hat. Let her glue the pieces together and then add her own artful touch with markers, stickers paints or crayons.
Every child has his eye on that special sack whenever Santa walks into a room. Why not let him decorate his own Santa's sack to leave out for Santa to fill on Christmas Eve. Start with a basic red sack. You can use a pillowcase or laundry bag if you can't find a Santa's sack. Now give him all the supplies he needs to transform that sack into his very own creation. He can use fabric pens and paints or fabric markers. If you want to let him add some Christmas-themed decals, let him place them where he wants and then iron them onto the sack for him.
Create a cotton ball and construction paper Santa for your Christmas-loving little munchkin to hang on her wall. Start with a white paper plate for his face and have her paint it with a flesh-colored paint. While the paint dries, cut out a Santa hat for her from a piece of red construction paper and have her glue it to the paper plate face when it dries. You can have her draw on the eyes, nose and mouth now, and then provide her with a bowl full of cotton balls to create Santa's beard and hat.
1

Kids in the Holiday Kitchen: Making, Baking, Giving; Jessica Strand, et al.

2

Christmas Decorations Kids Can Make; Kathy Ross