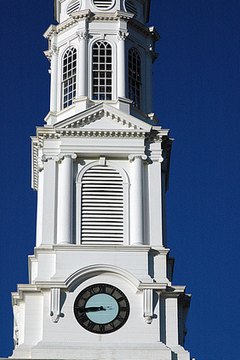 Deans fill a variety of administrative and academic roles at a university.
A dean holds a significant position within a university community. Deans administer student services, operate financial aid programs and lead academic departments. Each university sets its own job requirements, but deans usually hold advanced degrees and have experience in other academic positions prior to becoming a dean, according to the Bureau of Labor Statistics. Whether you are writing to a dean to request assistance with a university issue or to apply for a job, you want to make a good impression by starting with properly formatting the address on the letter you send.
Type the first and last names of the dean on the first line of the address. Insert a comma after the name. Add the degree the dean holds, such as Ph.D. or M.A,. after the comma on the same line as the name.
Type "Dean of" followed by the name of the position the dean holds at the university on the second line and the name of the university on the third line.
Type the street address of the university on the fourth line and the city, state and ZIP code on the fifth line.
Type the salutation for the letter using "Dear Dean," followed by the dean's last name. You may use "Dear Dr." instead of "Dear Dean," if the dean holds a doctorate.
Tip
Check the current website or call the university to be sure you have the correct name, degree and title of the dean for the department you want to contact.
Photo Credits
University of Maryland image by dwight9592 from Fotolia.com