Simple Edible Spring Crafts for Kids
26 SEP 2017
LIFE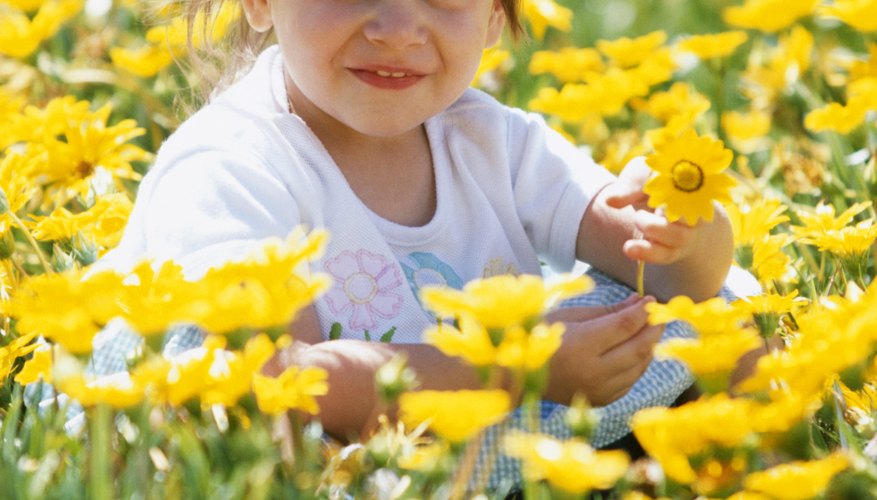 Brand X Pictures/Brand X Pictures/Getty Images
When the weather warms and thoughts turn to spring, get the kiddos busy with engaging craft projects. Edible crafts are great because you don't need to find any wall space or space on the fridge to display them afterward. Most kids love projects that involve food, so get busy with edible spring crafts to welcome the new season.
Make delicious fruit flowers using mini cookie cutters and slices of fruit. Gather flower-shaped mini cookie cutters and slices of watermelon, pineapple, kiwi, cantaloupe and honeydew fruits. Show your child how to push the cookie cutters down through the flesh of the fruits to make little flower shapes. Cut grapes in half for the centers of the flowers. Add a smidgen of vanilla yogurt to the centers of the flowers and push the grapes down onto the yogurt to create colorful and delicious fruity flowers.
While cut-out cookies may seem like a Christmas project, a few alterations make them great spring cookies, too. Whip up simple sugar cookies (or take a shortcut and purchase premade sugar cookie dough). Buy daisy- and tulip-shaped cookie cutters to make pretty flower cookies. After rolling out the dough, cutting the flower cookies and baking them, it's time to decorate! This is where the kiddos get creative. Provide pastel-colored icing in colors like pink, lavender and yellow. Give kids sprinkles in spring colors and they can go crazy creating spring flowers that dazzle and delight.
An edible flower pot looks amazing and is oh-so-easy to create. Process a package of graham crackers in the food processor until you've got fine crumbs. Fill custard cups about three-quarters full with the graham cracker crumbs to form the "dirt" for the flower pots. You have a couple of options for flowers -- one is healthy, the other, not so much. For healthy flowers in your child's flower pots, cut off blossom stems from a chive, carnation or lavender plant and insert them into the graham cracker crumbs. As long as no pesticides are on the plants, they're perfectly edible. A less healthy option involves uncooked fettuccine noodles and colorful gumdrops. Break the noodles in half, insert one end into the larger end of a gumdrop and stick the other end into the graham cracker crumbs for colorful flowers.
Baby chicks are a standard springtime feature -- why not make up a few tasty ones that your little one can eat? Hard boil a few eggs -- you'll need one for each chick you want to make. After the eggs cool, go ahead and remove the shells -- this is probably a mommy job. Now you'll need a few garnishes as well. Tiny circles of black olive can be the chicks' eyes. Slivers of raw carrot can be the chicks' beaks. Cut triangles of red pepper to be the chicks' feet. These pieces will "glue" easily onto the eggs using mayonnaise. Let your little ones get as creative as they like to create cute chicks. Then they can gobble them up for a healthy snack.