Paintings to Do With 2 Year Olds
26 SEP 2017
CLASS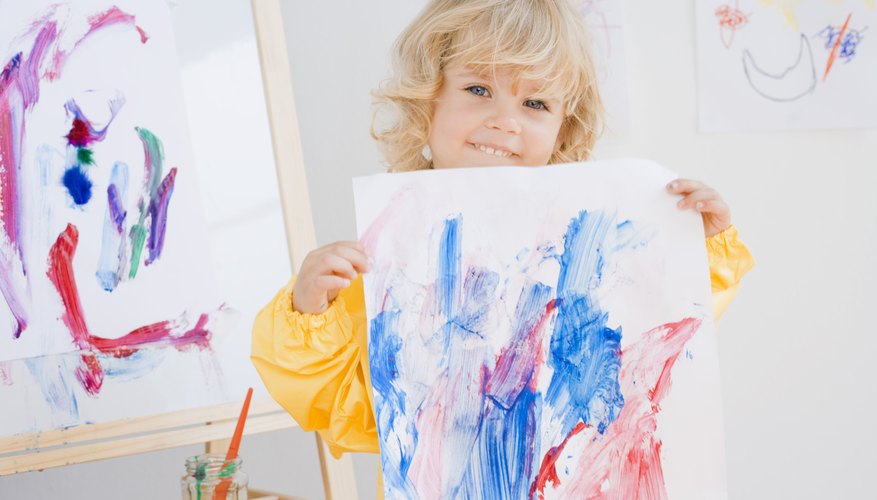 Polka Dot/Polka Dot/Getty Images
Nurture your little Rembrandt's creativity and sensory skills while letting him explore and learn with textures, colors and techniques. Painting activities also help young children develop their large motor skills in making and controlling wide arm movements, while small motor skills develop when they grip painting tools or even finger paint. You can direct your little one's instincts to create art masterpieces by giving him some fun painting activities to do, while also providing him some painting surfaces other than the walls and furniture. Stir, mix, press, swipe or squish up some creative painting fun with your 2 year old.
Help your child grip a paint brush to create a picture on paper that is supported on a table or an easel. Try different sizes and types of brushes so she can experiment with wide and narrow painting lines. This will also help her learn to grip different sized handles. Sponges will give her a whole new experience with painting as she holds sponges in different ways to apply paint to paper. Use clean brushes and sponges, and choose paints that are child-safe, since you know she is still in that stick-everything-in-the-mouth stage. Check for the AP (Approved Product) safety seal from the Art and Creative Materials Institute. Or, put a few drops of food coloring into a shallow cup of water for almost-free kid paints.
Put a paint cover-up on your little one, and put a washable covering over the floor. Finger painting is a delight to two-year-olds, as they squish, smoosh and spread substances to create a picture. Purchased finger paints will work, but why not go for toddler tasty paintings? Use foods like whipped topping, applesauce or yogurt for different textures and smooth spreading. Add some food coloring if you wish. Or, put some chocolate or strawberry syrup into a small squeeze bottle. He will love squeezing the bottle to make designs on paper with the syrup, followed by plenty of hands-on squishy fun.
For those times you don't want to have to clean up a paint mess and bathe a child, use simple and clean paints. It doesn't get any cleaner than using water to paint. Provide squirt and spray bottles, shallow pans and some colored paper. Any way you apply it, water makes a noticeable design on paper. You can also let your little one paint on a table surface with water and a little tear-free shampoo. She will experience different textures as she moves her hands through the water and shampoo to create suds. This, too, is easy to clean up.
Paints don't have to be wet to create great artwork. Let your child sprinkle some baby powder or corn starch onto some dark colored paper, then paint a picture. Colored sand, chalk dust and dry tempera paints provide a smooth-textured substance for him to spread onto paper. When finished, you can shake the art material off the paper to display the picture.