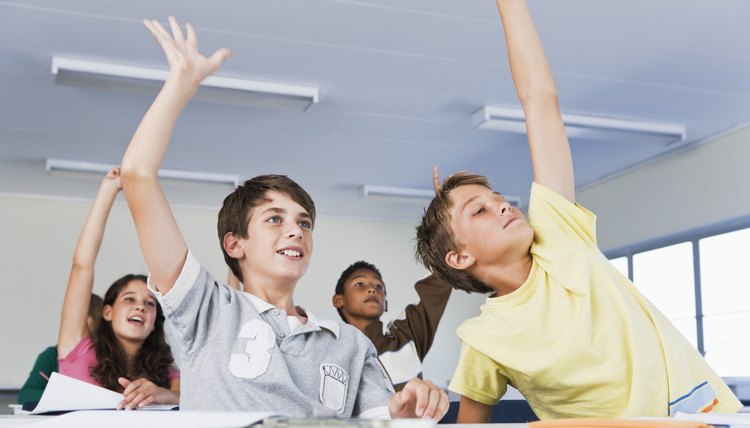 Keeping the attention of students is a concern regardless of school format.
In a year-round school system, students take classes on an ongoing basis for 12 months rather than the traditional nine months with summers off. The year-round schedule normally includes 45 or 60 days of classes with 15 to 20 day breaks in between. The pros and cons of this unconventional schooling format have been a subject of debate among educators and parents.
Avoid Summer Learning Loss
A major driver of year-round education is the desire to reduce the impact of student's forgetting what they learn during a three-month summer break. A 2011 report from Indiana University-Purdue University at Indianapolis notes inconsistent research on academic achievements between traditional and year-round models. However, educators generally agree that students struggle with what is referred to as "summer learning loss." In a year-round model, students more quickly move from one lesson to the next, allowing teachers to connect learning activities and levels without constant need for review.
School Flexibility
School districts also look at the financial advantages and flexibility afforded by year-round scheduling. Schools dealing with overcrowding can set up alternating schedules for students with a year-round model to optimize use of space, according to the website of academic publisher and program developer Scholastic. This helps the district maintain adequate teacher-to-student ratios and avoid wasteful spending on mostly empty buildings associated with a nine-month format.
Ebbs and Flows
Despite the emphasis on removing the major summer gap in learning, Scholastic notes that some educators and students find the constant on-and-off format of year-round schooling disruptive. Some students and teachers take a while to get into the academic groove. Just as they get comfortable and feel like they are operating at peak levels, it is time for a 15- or 20-day break. Each new in-school period brings out a start-from-scratch mentality for some students, educators and parents.
Family Burdens
What's good for an individual student's learning isn't necessarily ideal for family functioning. High schools often stick with a nine-month format to avoid major obstacles in scheduling sports and extracurricular activities with area schools. Parents in some districts struggle coordinating transportation and logistics with high school students on a nine-month schedule and elementary and junior high students in school year-round. Additionally, parents may struggle to balance work with school demands, and those with small children often face hardships in finding periodic childcare.
Photo Credits
Jupiterimages/Goodshoot/Getty Images