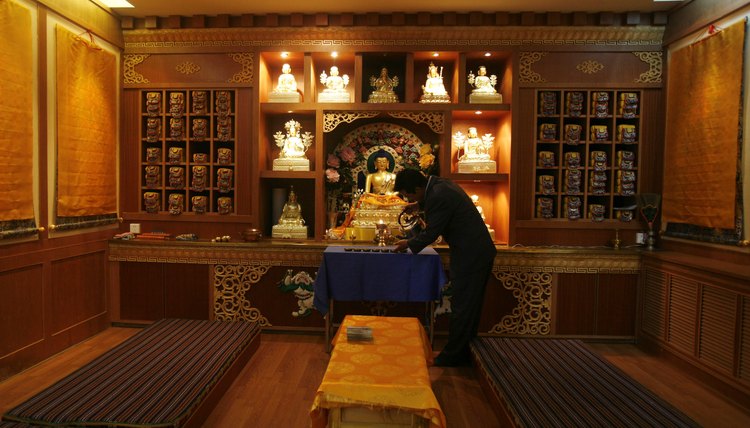 A Buddhist altar, like this example from the Tibetan tradition, can easily be set up in the home.
An altar is important to Buddhist practice, because it provides a point of focus for meditations and serves as a tangible reminder of the example of the Buddha for worshipers to emulate. The Venerable Tenzin Yignyen calls these representations of the Buddha's person and ideals "reminders of the goal of Buddhist practice." There are some cultural differences in the construction style and appearance of Buddhist altars, but all have some consistent principles which you can use to set up your own small altar.
Clear a table or shelf. Wipe it clean and, if it is a shelf, clear the wall behind it as well; there should be nothing to distract from the items on the eventual altar.
Wash your hands.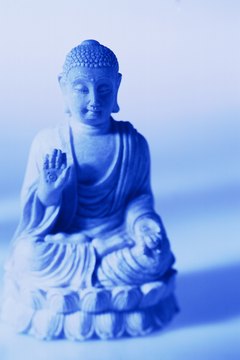 The chief component of a Buddhist altar is a statue or picture of the Buddha.
Place the image of the Buddha in the center of the cleared space. If it is a two-dimensional image, you may hang it on the wall; a statue may be placed on the surface.
Double-check the symmetry of the space by measuring to each side of the Buddha image, then secure the image so that it will not be knocked over by wind or motion.
Place the candles symmetrically to either side of the Buddha image. If your tradition calls for incense, place the burner in the center, but lower than the Buddha image.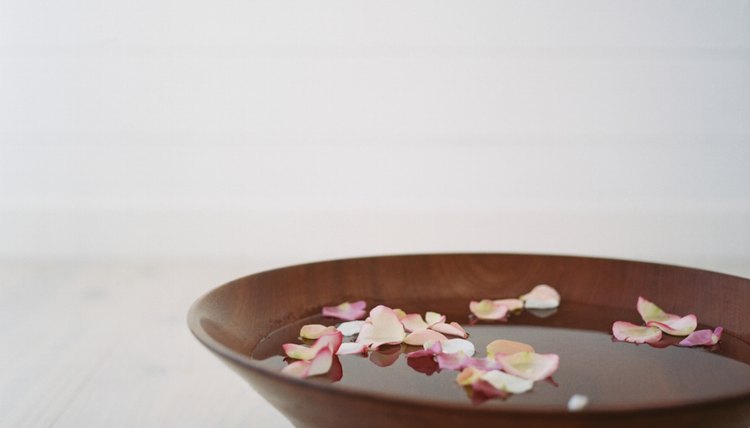 Most Buddhist traditions calls for placing one or more bowls of water on the altar.
Place the bowls symmetrically on the altar. Some traditions call for a single bowl or water; some for one of water and one of rice; some for seven bowls of water.
Put the bell or chiming bowl symmetrically on the altar; its specific placement will depend on the other items your tradition requires and on the size of the altar surface.
Place any other items on the altar, as required by the specific tradition you follow, being sure to keep the altar symmetrical. Some traditions call for written sutras, fruit, flowers, a coiled rosary, or a stupa.
Items you will need
A table, dresser top, cabinet or shelf

Soap

Water

Image of the primary Buddha you honor

Ruler (optional)

Candles

Incense burner (optional)

Incense (optional)

1-7 small bowls

Rice

Hand bell or chiming bowl

Additional shelves or levels (optional)

Additional images of Buddha (optional)

Written sutras (optional)

Fruit or other foodstuffs (optional)

Flowers (optional)

Rosary (optional)

Stupa (optional)
Tip
Tenzin and Yutang Lin recommend dedicating an entire room to house your altar, so you can meditate in a quiet space. Depending on your cultural background and the branch of Buddhism you follow, you may also wish to orient your shrine to a specific cardinal direction; for instance, Lin notes that practitioners of the Pureland School, who follow the Amitabha Buddha, should place their altar facing east.
If your tradition requires two Buddha images, you should place the primary image on your left as you face the altar; if your tradition requires three Buddha images, place the primary image in the center. Larger numbers of hanging images should be placed in rows, according to a specific format depending on the role each image plays in your tradition.
You may choose to have your altar -- or some specific elements of it -- blessed by a priest or other respected Buddhist practitioner. Some Buddhists prefer to use only offerings that have been blessed, for instance; seek the advice of your local Buddhist center or ask the priest or guru you have been working with.
Warning
Do not place anything in front of the image of the Buddha, unless it is lower down. This may require the use of a pedestal or small shelf to raise the Buddha image.
Photo Credits
China Photos/Getty Images News/Getty Images
Cite this Article
Choose Citation Style
Spirko, Jennifer. "How to Set Up a Small Buddhist Altar." Synonym, http://classroom.synonym.com/how-to-set-up-a-small-buddhist-altar-12087310.html. 29 September 2017.
Spirko, Jennifer. (2017, September 29). How to Set Up a Small Buddhist Altar. Synonym. Retrieved from http://classroom.synonym.com/how-to-set-up-a-small-buddhist-altar-12087310.html
Spirko, Jennifer. "How to Set Up a Small Buddhist Altar" last modified September 29, 2017. http://classroom.synonym.com/how-to-set-up-a-small-buddhist-altar-12087310.html
Note: Depending on which text editor you're pasting into, you might have to add the italics to the site name.