The Taj Mahal is a stunning example of India's Mughal-era architecture
India's Medieval period is generally known as the Mughal Empire, a period that lasted from 1525 to 1860 A.D. During this era, India became united as a single nation and began to flourish economically and culturally. Builders and craftsmen, working on orders from the emperors of the era, expanded on traditional Persian styles to create palaces, mausoleums and fortresses made from gleaming white marble and and red sandstone. Today, these architectural masterpieces still have the power to leave visitors in awe of their beauty and design.
Taj Mahal
Taj Mahal
As President Bill Clinton famously put it: "The world is divided into those who have seen the Taj Mahal and those who have not." The glorious Taj Majal, which was built in Agra in 1653 by Emperor Shah Jahan, represents the height of Mughal art and architecture. The dazzling architecture features the iconic marble dome and its flanking minarets made with pearl-like, luminescent marble that glows pink at dawn, sparkles in the sun and arguably looks the most breathtaking in the moonlight. Details in the interior rooms, such as walls carved with calligraphic writing, gemstone-inlaid mosaics and a series of mirrors and reflecting pools to compound its beauty, invariably astonish visitors and underscore President Clinton's statement.
Delhi Red Fort
Delhi Red Fort
Situated in Delhi, the Lal Qila (Red Fort) is a fort and palace built in 1648, during the Mughal era. The enormous, octagonal-shaped fort is a mini-city, protected by a moat and thick, red sandstone walls with turrets, bastions and ramparts. Visitors enter from the Lahori gate, near the Hathipol—or the area where rulers and guests would dismount from their elephants—and pass through a spectacular, hand-carved, red sandstone colonnade. The interior features a once-vital city and government center, with public halls, private meeting chambers, gorgeous marble palaces and private quarters that are decorated with mirrors, intricate stone mosaics and gilded support beams. The palaces open onto splendid, elaborate gardens with a number of reflecting pools and walking paths.
Jama Masjid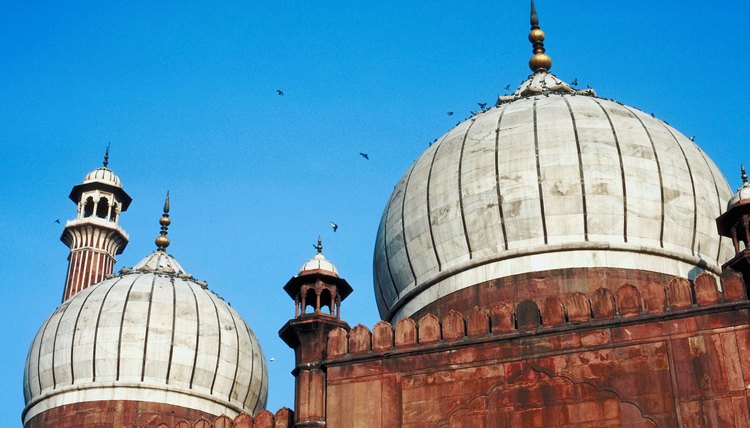 Jama Masjid
Located a quarter-mile from the Red Fort, Jama Masjid is India's largest mosque, built in 1650. The mosque features three graceful domes that are inlaid with alternating bands of white marble and red sandstone to create a stunning striped pattern. Visitors pass through a series of arched, carved and inlaid stone doorways to enter an expansive courtyard with minarets and towers that have carved facades and wide staircases. The courtyard can accommodate 25,000 worshipers and is open to the public. Non-Muslims can enter the Mosque only at specific times during the day.
Photo Credits
Jupiterimages/Photos.com/Getty Images