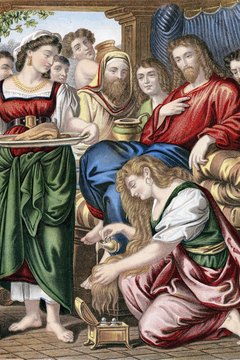 Mary Magdalene annointed the feet of Jesus with expensive perfume.
The Christian religion prohibits sexual intercourse outside of marriage, particularly in the context of prostitution. The Bible condemns both the act of prostitution and hiring a prostitute. In the book of Proverbs, Solomon describes a prostitute as a bandit lying in wait for unfaithful men. Nevertheless, the Bible records numerous examples of prostitutes fulfilling pivotal roles.
Prostitution and Revenge
At the end of the book of Genesis, a woman named Tamar disguises herself as a prostitute and intends to seduce her father-in-law, Judah. He had violated cultural mandates by denying marriage to his youngest son, after Tamar's first two husbands--his oldest two sons--died. She waited by the side of the road for Judah, and he hired her to sleep with him. Thereafter, she was found to be pregnant. Though he sought to have her killed for prostitution, she revealed that he was in fact the father. He was ashamed and said, "She is more righteous than I, since I wouldn't give her to my son."
Prostitution and Redemption
Later, in the book of Joshua, the Bible describes a prostitute named Rahab who helped Israelite spies by hiding them in her home in Jericho. The spies guaranteed that when the city was destroyed, they would spare Rahab and those living with her. She is mentioned later, in the gospel of Matthew in the lineage of Jesus and again in Hebrews 11, a chapter commonly referred to as the heroes of faith.
Jesus and Prostitutes
Jewish religious leaders criticized Jesus throughout his ministry for socializing with prostitutes and tax collectors. One of the most poignant examples of this is recorded in the book of Luke when a woman who was known to be a prostitute came to Jesus with a flask of very expensive perfume and anointed his feet with it, wiping them with her hair and her tears. Though the Pharisee who had invited him into his home criticized her act, Jesus praised her, saying "Therefore, I tell you, her sins, which are many, are forgiven—for she loved much. But he who is forgiven little, loves little."
Prostitution and Morality
The New Testament encourages Christians to present their bodies as a temple for the spirit of God to dwell. In 1 Corinthians, Paul mentions prostitution specifically in the context of sexual morality: "Do you not know that your bodies are members of Christ himself? Shall I then take the members of Christ and unite them with a prostitute? Never!"
Photo Credits
Photos.com/Photos.com/Getty Images