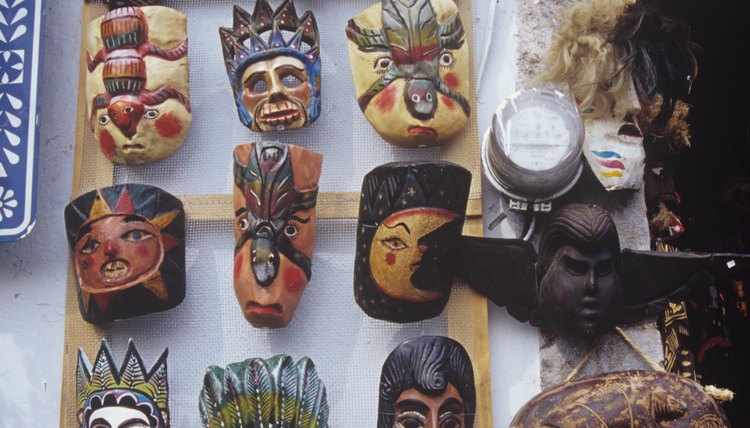 Mexican masks hang outside of a shop in Mexico.
Mexico's native people expressed themselves and their beliefs through ritual dance with the aid of intricate masks. Though the art of mask making is still alive in Mexico, the meaning of the wearable artwork has shifted from a ceremonial to a more commercial, decorative approach. Even so, rotating exhibits throughout the nation offer tribute to the centuries-long tradition.
History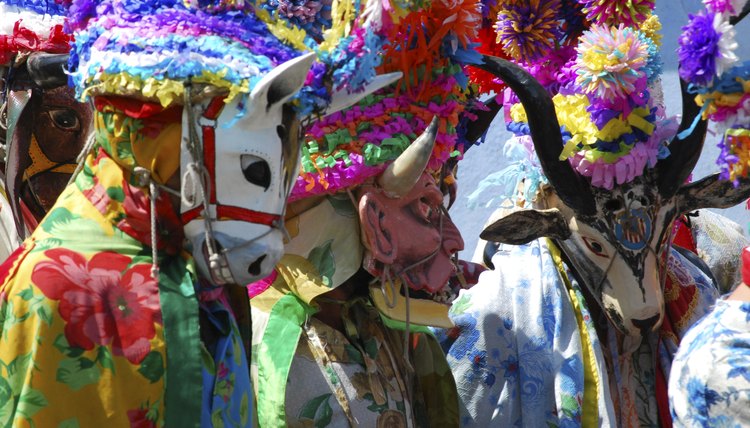 People in a parade wear Mexican masks and costumes.
Masks have been used in Mexico since 3000 B.C, according to the Arizona State Museum. In pre-Hispanic times, masks were used by priests to summon the gods and during sacrifices. When the Spanish conquered Mexico, they added horns to the masks of native gods to declare them "devils." The use of perishable materials makes masks difficult to preserve and date, with most in existence dating back to the 1850s or later. Earlier masks often portray animals, guardian spirits to native people.
Materials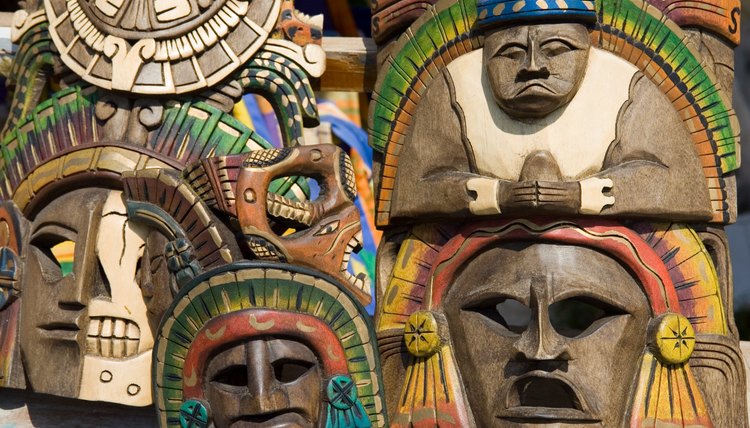 Mexican masks are displayed outdoors.
Mexican masks were made by farmers, carpenters and other laborers who passed down their skills but often did not identify themselves in their work. Masks can be made from wood, leather, papier-mâché, wax and metal, embellished with horse and goat hair, straw, ribbons, mirrors, yarn, braided straw, horn and animal teeth. Among mask themes are animals such as jaguars and deer, religious and historical figures and ethnic types.
Meaning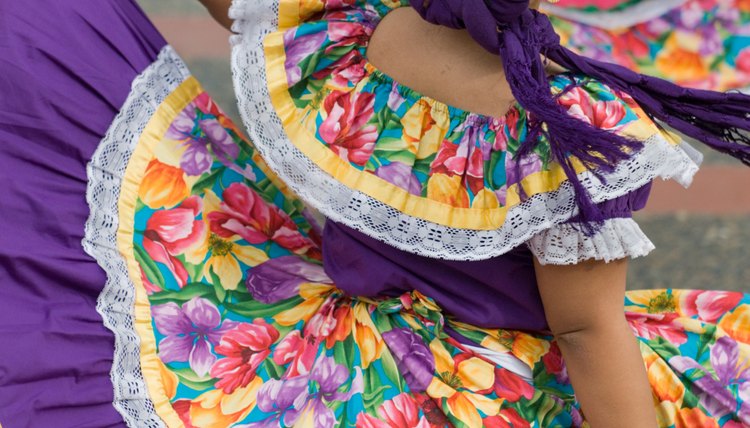 Mexican dancers perform outside.
Native Mexicans made masks for religious and secular ritual dances and festivals. New dances were added once Spanish influence set in, exemplified in the "Dance of the Moors and Christians." This Spanish dance symbolized the triumph of "good" (the Christians) over "evil" (the Moors) in 1492. Spaniards used this dance and masks with religious subjects as a way to promote Christianity. In contrast, some masks made for the "Dance of the Dandies" ridicule the French who occupied Mexico for a few years in the 1860s with shiny, rosy-cheeked complexions and smug looks. Masks used in festivals are sometimes ritually destroyed.
Mass Production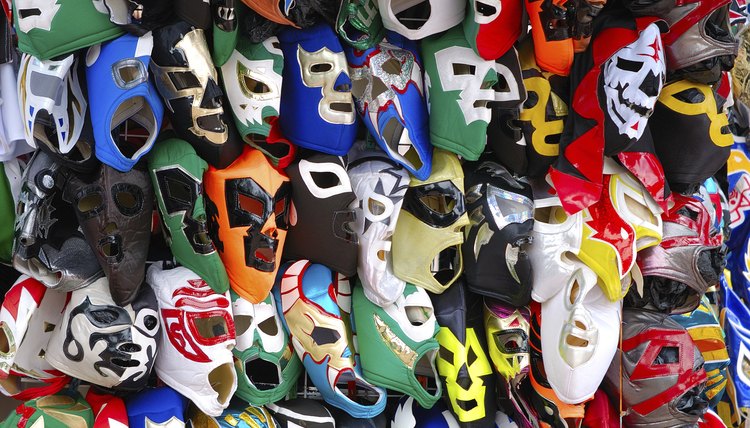 A vendor sells Mexican wrestling masks.
Most masks made in Mexico today are for commercial, not ritual, purposes. A contemporary incarnation of the Mexican mask can be seen in Mexican wrestling, "lucha libre," where contenders cover their faces with form-fitting, colorful masks.
Exhibits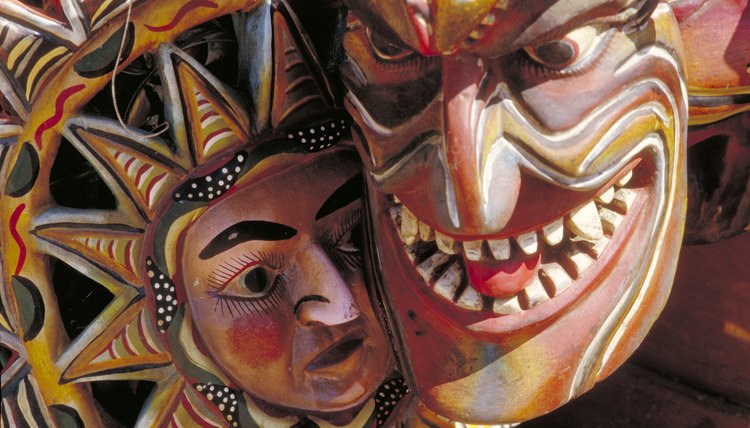 A close-up of two Mexican masks.
El Museo Del Barrio in New York City houses a permanent collection of Mexican masks from the 1950s to the mid-1970s. Other museums throughout the U.S. host temporary Mexican mask exhibits.
Photo Credits
Top Photo Corporation/Top Photo Group/Getty Images
Cite this Article
Choose Citation Style
Beltran, Myriam. "Information About Mexican Masks." Synonym, http://classroom.synonym.com/information-about-mexican-masks-12081036.html. 29 September 2017.
Beltran, Myriam. (2017, September 29). Information About Mexican Masks. Synonym. Retrieved from http://classroom.synonym.com/information-about-mexican-masks-12081036.html
Beltran, Myriam. "Information About Mexican Masks" last modified September 29, 2017. http://classroom.synonym.com/information-about-mexican-masks-12081036.html
Note: Depending on which text editor you're pasting into, you might have to add the italics to the site name.