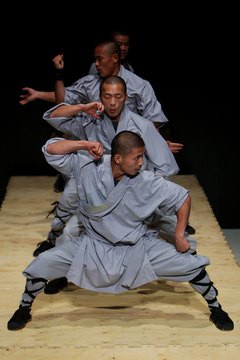 Shaolin monks performing at Sidney Opera House.
The Shaolin Temple in the shadow of Songshan Mountain in China's central Henan province is a UNESCO World Heritage Site. It is also the 1,500-year-old home of Zen Buddhism and of the famous Shaolin fighting monks, legendary kung fu experts who perform worldwide in venues from circuses to concert halls. But the martial arts expertise is not show business for the monks. They are in the enlightenment business and they follow strict monastic rules -- including a vegetarian diet. (see references 3, 5)
Zen Kung Fu
Kung fu at the Shaolin Temple developed as a response to the muscle-weakening that happened when monks sat in meditation for hours every day. To stimulate circulation, keep joints supple and build muscle, the monks developed a martial arts practice which they shared with the surrounding villagers. During wars and political conflicts, the monks were called on to fight actual battles and their prowess became the stuff of myth and legend. Zen, or Chan, practice requires a calm and peaceful mind, so the monks followed a traditional Buddhist diet that excluded animal products. Their health and temperament were influenced by diet as they used martial arts as a means to attain enlightenment. As a practicing Zen monastery, Shaolin Temple mandates that its ordained monks observe all Buddhist rules -- including the abstention from meat. (see references 2, 3, 4)
Meat-Eating Monks
As the fame of the monks at Shaolin grew, so did the demand for kung fu training. Outside the grounds of the temple, schools for martial arts training sprang up and a lively subculture of studios, shops, restaurants and makeshift shelters surrounded the area. This happened several times in history, with several purges of the non-monastic kung fu culture in the vicinity of Shaolin Temple, including one to protect its world heritage site status. Those communities were carnivorous, reflecting the belief that eating meat provides strength and builds muscle. In addition, a number of contemporary ordained Shaolin monks, along with students of martial arts and Zen in the monastery who had not taken orders, left to found their own kung fu schools in China and in the West. Some still identify as ordained Shaolin monks, and many are carnivorous, despite Buddhism's prohibition against flesh-eating. (see references 4, 5)
Zen Diet
Monks at the Shaolin Temple and its sanctioned subsidiaries avoid most animal foods. Their diet is vegetarian, consisting of fresh vegetables, fruit, soy, grains, nuts and mushrooms. Food is usually boiled or steamed. Dishes range from the simple -- bean soup; steamed vegetables, rice and tofu; noodles with black bread; rice porridge and steamed buns -- to elaborate vegan dishes served on special occasions or to visitors -- "three treasures," baked bran, dried tofu and pickled radish; "floating fragrance in a Buddhist pot," cabbage and shaved dried tofu; "blossoming smile of enlightenment," tofu and fried eggplant; and "Buddha jumps over the wall," vegetarian soup adapted from a savory meat and seafood dish. (see references 1, 2, 3)
Not on the Menu
Traditionally Shaolin monks don't eat meat, fish, or eggs. They consume a limited amount of dairy, primarily milk, for protein. In Buddhist belief, spicy flavors produce too much heat in the body so chives, garlic, green onion, ginger, chilies and mustard are out. So is any type of fermented beverage -- no alcohol. Concentrated protein, high fat and spicy foods are said to boost blood circulation, unbalancing the body. When not thoroughly digested, they cause inflammation and disrupt the flow of Qi energy. This makes it difficult to maintain vigorous physical health and develop the calm mind and focus required of a serious Zen practitioner, and of a Shaolin warrior. (see references 1, 2, 3)
Photo Credits
Lisa Maree Williams/Getty Images Entertainment/Getty Images
Cite this Article
Choose Citation Style
Crawford, Benna. "Shaolin Temple Diet." Synonym, http://classroom.synonym.com/shaolin-temple-diet-12085560.html. 29 September 2017.
Crawford, Benna. (2017, September 29). Shaolin Temple Diet. Synonym. Retrieved from http://classroom.synonym.com/shaolin-temple-diet-12085560.html
Crawford, Benna. "Shaolin Temple Diet" last modified September 29, 2017. http://classroom.synonym.com/shaolin-temple-diet-12085560.html
Note: Depending on which text editor you're pasting into, you might have to add the italics to the site name.