Schools That Offer a Master's of Legal Studies
26 SEP 2017
COLLEGE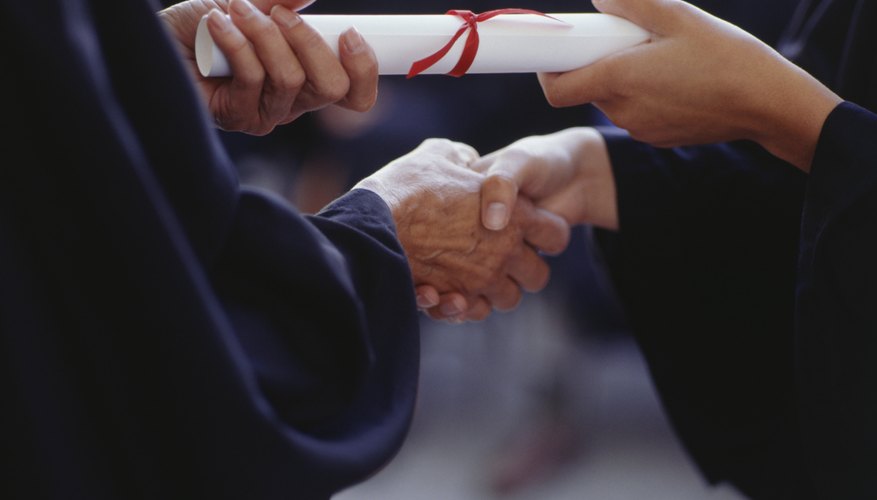 Ryan McVay/Photodisc/Getty Images
The law is a complex system that requires years of training to understand and a master's degree in legal studies can be your first step toward a deeper understanding. This degree is frequently offered as a continuing education program for professionals already established in their careers, but may also serve as a gateway into a new profession involving law.
Several online schools offer flexible computer-based classes for students pursuing a master's degree in legal studies. Kaplan University and West Virginia University offer programs entirely online, and the University of Springfield at Illinois offers a combination of live and pre-recorded online classes. Champlain College offers an online Master of Science in Law, and Drexel University's online Master of Legal Studies is taught by the university's law school professors.
For students who prefer a traditional classroom, a wide variety of schools offer in-person master's degrees in legal studies. The University of Pittsburgh allows students to choose from more than 20 different concentrations in a specific area of law, such as business, commercial or criminal law. "U.S. News and World Report" rank's Arizona State University's Sandra Day O'Connor College of Law as the 29th best law school in the country, and students in the legal studies program take courses at the law school. At Yale Law School, students in the Master of Legal Studies program are required to complete a year of law school, giving them a strong foundation in legal basics.
3
Introductory and Core Classes
Every school establishes its own criteria for students pursuing a master's degree in legal studies, but each aims to provide students with a basic framework in the legal system by offering introductory legal classes. At the University of Pittsburgh, for example, first-year students take Introduction to Law and Legal Reasoning and Torts. At Drexel University, students are required to take courses such as Introduction to the Legal System, Compliance Skills, Legal Research and Analysis, and Ethics and Professional Standards.
4
Electives and Concentrations
After students complete their school's core requirements, they can take a wide variety of elective courses. The University of Pittsburgh offers Biotechnology and the Law, Conflict of Laws, Contracts, Commercial Transactions and Corporate Taxation. Drexel University is well-known for its concentration on NCAA sports, and offers courses such as NCAA Governance Process and NCAA Rules and Infraction Cases. Arizona State University emphasizes its flexible course structure, offerings electives in public health, environmental, business and employment law.