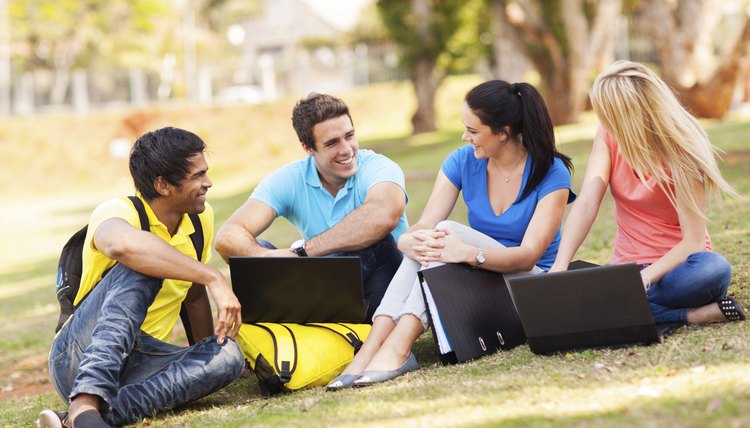 Students sitting on college campus grass
Whether you don't feel like college is the right fit for you, would rather explore other avenues to a career, don't want to spend the money on a four-year education or have another personal reason, dropping out has both positive and negative consequences. If you're considering leaving college before you get your degree, understanding the effects of dropping out may play a role in your decision. From career mobility and financial matters to the emotional implications, not finishing your undergraduate education has an array of impacts.
Degree-Dependant Careers and Future Earnings
While a college degree doesn't always guarantee an instant payoff when it comes to your career, not having one can impact your career future. Having a higher degree of education is associated with having a higher annual income for full-time workers ages 25 to 34, according to the National Center for Education Statistics. With an increasingly competitive job market, more employers may require a bachelor's degree. In 1992, 19 percent of jobs required a four-year degree, according to the Georgetown University. The statistic increased to 21 percent in 2010 and a projected 24 percent in 2020. If you plan on pursuing a profession that requires a bachelor's degree, your lack of degree will limit your career potential. For example, if you want to become a licensed elementary school teacher, you'll need a minimum of a bachelor's degree.
Student Loans
The average annual cost of a college education -- including room and board -- in the 2011-2012 school year was $14,300 at public colleges, $23,300 at private for-profits and $37,800 at private nonprofits, according to the NCES's Digest of Education Statistics. If you take out loans for a year or more of college and then drop out, you'll be required to start paying back the money you owe, but you may not be able to earn the higher salary you would have after graduating. That said, if you want to pursue a career that doesn't require a college degree or are concerned that college won't get you to where you want to go, leaving school can mean not having to pay back four full years of loans. Doing so may positively impact your well-being if your future profession doesn't require a bachelor's degree.
Family Matters
Leaving a post-secondary school doesn't only affect you. Your parents and other family members may feel the pinch of your decision to leave before graduation. Some families accept this decision and welcome their adult child's choice to venture out on their own. On the other hand, a dropout's parents may worry about having to financially and emotionally support their child into adulthood. Although your family may not immediately fall in love with the idea of dropping out, the ability to start working immediately could offset some of the worries and actually improve the parent-child relationship. In 2012, 21.6 million young adults ages 18 to 31 lived at home with their parents, according to Pew Research Social and Demographic Trends. These statistics show that 66 percent of college students live at home in contrast to 50 percent of 18- to 24-year-olds who were not in school and employed.
A Job That Pays
College dropouts don't have it worse than grads in every case. Roughly 29 million jobs that don't require a four-year bachelor's degree and pay an average annual salary of $35,000 or more exist in the U.S., according to Georgetown University's "Career and Technical Education, Five Ways That Pay" report. Pathways to professions that don't require a four-year degree include employer-based training, industry certifications, technical apprenticeships and non-bachelor's level programs such as certificates. For example, construction workers may learn their trade though an apprenticeship program, hair stylists need a certificate and a restaurant manger can work his way up while learning on the job.
2016 Salary Information for Kindergarten and Elementary School Teachers
Kindergarten and elementary school teachers earned a median annual salary of $55,480 in 2016, according to the U.S. Bureau of Labor Statistics. On the low end, kindergarten and elementary school teachers earned a 25th percentile salary of $44,220, meaning 75 percent earned more than this amount. The 75th percentile salary is $70,600, meaning 25 percent earn more. In 2016, 1,565,300 people were employed in the U.S. as kindergarten and elementary school teachers.
Photo Credits
michaeljung/iStock/Getty Images
Cite this Article
Choose Citation Style
Loop, Erica. "Effects of Dropping Out of College on Students." Synonym, http://classroom.synonym.com/effects-dropping-out-college-students-8223109.html. Accessed 21 April 2018.
Loop, Erica. (n.d.). Effects of Dropping Out of College on Students. Synonym. Retrieved from http://classroom.synonym.com/effects-dropping-out-college-students-8223109.html
Loop, Erica. "Effects of Dropping Out of College on Students" accessed April 21, 2018. http://classroom.synonym.com/effects-dropping-out-college-students-8223109.html
Note: Depending on which text editor you're pasting into, you might have to add the italics to the site name.