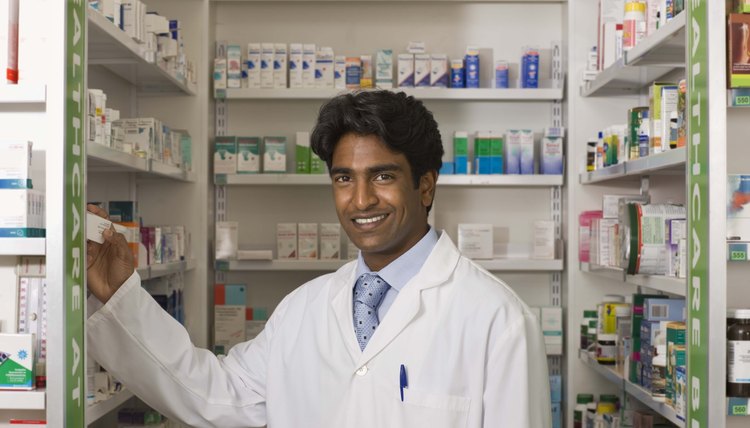 Pharmacy assistants take a variety of courses covering both pharmacology principles and pharmacy operations.
As pharmacists increase their focus on patient care, they rely more heavily on pharmacy assistants to prepare prescriptions and run the store. The pharmacy assistant provides both clinical and administrative support, allowing pharmacies to run more efficiently and provide better service. Many education institutions offer pharmacy assistant programs that provide the training necessary to obtain a position in this growing field.
Prerequisites and Foundational Courses
Most pharmacy assistant programs require students to have a high school diploma or equivalent for admission. Strong math skills and accuracy are important attributes for pharmacy assistants, who assist in calculating and dispensing doses. Some programs, such as the program offered by Atlanta Technical College, require student to receive at least a B grade in the required foundations of mathematics course.
Technical Courses
In addition to pharmacology courses, pharmacy assistant students will be required to take a number of other technical courses. At Anthem College, students take courses covering antibiotics, chemotherapy and intravenous treatments. The program at Stratford Career Institute includes anatomy and physiology coursework and medical terminology. Most programs require courses in calculating dosages and dispensing medications.
Other Courses
Pharmacy assistants are also trained in general pharmacy operations. Anthem College, for instance, provides a course covering inventory control and stocking and ordering procedures. A course offered by Atlanta Technical College also covers inventory and filing systems, packaging and labeling of drugs, and pharmacy policies. Atlanta Tech also requires an introduction to computers course covering basic operations that may be required in working environments.
Internships or Externships
After completing the required coursework, some programs offer students an opportunity to work in a real-world environment. This allows students to practice while still under close supervision of a trained pharmacist. Internships or externships may be offered at retail or hospital pharmacies.
Photo Credits
Jupiterimages/Polka Dot/Getty Images