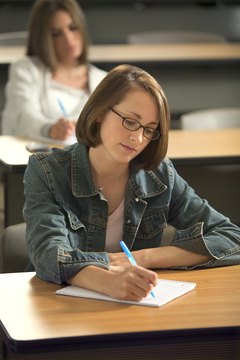 Expect frequent in-class practice in writing.
A composition class, required by most colleges, will help you discover the skills you need to produce effective writing. Oregon State University lists the skills composition students practice, such as writing, reading, critical thinking, argumentation, style and research. A composition class allows you to concentrate directly on the act of writing and revising and can provide the most intense feedback from a professor in regard to your writing.
Learn What Professors Expect
Researchers asked college faculty what they expect from students, and what they found was that students are expected to practice not only writing research-based papers but also to practice critical thinking. Professors want students to think for themselves, learn the material of a course and then write papers that demonstrate not only knowledge about the material but also the students' own conclusions. A composition class gives you practice in reading material closely, expressing what you think about that material and then getting detailed feedback from your instructor.
Practice the Habits of Effective Writers
Alice Horning, Ph.D., a writing professor at Oakland University, teaches that students benefit from learning the habits of experienced writers. A composition class will introduce you to the tools successful writers use to solve problems, such as brainstorming to break through writer's block, using process -- writing multiple drafts -- and getting effective feedback from others. You'll practice thinking and acting like a writer by increasing your awareness of word choice, sentence flow and all of the choices available to you when you draft an essay.
Improve Critical Thinking
Students are sometimes frustrated by having to read and respond to essays in their composition class, but they benefit by gaining critical thinking skills, which are key to a successful argument. Lisa Ede, a professor of English at Oregon State, writes that college instructors value evidence-based, well-reasoned arguments. Ede has students improve critical thinking by reading a published piece and analyzing the questions it asks, the author's position and the evidence offered by the author. Students then respond with their own logical arguments based on evidence drawn from the article they read.
Build Information Literacy
Your composition class will give you an introduction to the literacy skills you need to thrive in college and in your career. Literacy in the past -- before computers or Internet -- meant the ability to read and write. Today, literacy is more complex. According to the National Forum on Information Literacy, literate students are "independent, self-sufficient lifelong learners who can successfully navigate the competitive challenges of post-secondary educational and/or workplace opportunities." Your composition class will give you practice in doing effective research using your college's databases, where you will learn how to evaluate the data you find and locate and identify reputable Internet sources. You will also practice using and citing these sources in your papers -- skills demanded by professors across the disciplines.
Photo Credits
Thinkstock/Comstock/Getty Images