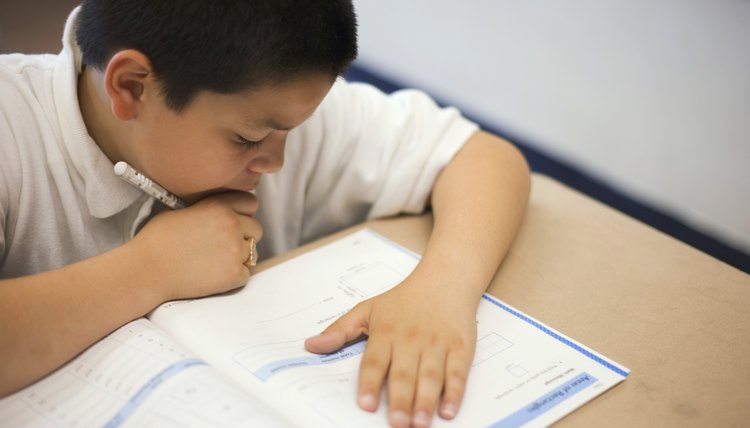 Achievement tests are one way to measure academic achievement.
Achievement tests are designed to measure what students know about a certain subject. Teachers use the results to assess student knowledge, adapt instruction and close learning gaps. States use the results to meet the requirements of federal education laws, promote students to the next grade or even use them as a criteria for graduation. Although useful, unfortunately, the tests are not without flaws and have some serious limitations.
Assess Students
Achievement tests measure a student's ability to recall skills and concepts for the grade and subject being tested. Since each student's score is compared to other students in the same grade level, the results of achievement tests can show teachers where there are gaps in learning, either from one grade level to another or between subgroups of students. With this information, teachers can see each individual student's strengths and weaknesses and adjust instruction to close these learning gaps between student populations. According to a 2011 review of research by testing scholar Richard Phelps, 93 percent of studies show that student testing positively impacts student achievement.
Limitations
The results of achievement tests are limited and cannot always show if learning has taken place or if there was quality instruction. Some students who have the appropriate knowledge to score well on the exam may be poor test takers or get nervous, which can cause them to score lower than normal. Other students may not understand the questions or lack outside knowledge that could help them better comprehend questions. According to the National Center for Fair and Open Testing, even though tests are reviewed for potential bias, it is impossible to create a fair, objective, reliable, unbiased test for every single student.
Federal Law
Many schools used standardized achievement tests in order to show that their students are making "adequate yearly progress" and are proficient in reading and math. This data is necessary in order to be in compliance with the federal law, No Child Left Behind, which was enacted in 2002. The results of these tests may mean that schools need to provide extra tutoring or services to struggling students and may even face strict sanctions, restructuring or removal of staff if students continue to perform poorly. Students also have the option to transfer to a better school if the school they are zoned to is not performing at an acceptable level.
"Teaching to the Test"
With high stakes testing necessary to comply with federal laws, some teachers may feel the need to teach their students how to take a test instead of how to think critically -- an academic skill that cannot always be measured on standardized achievement tests. Brookside Elementary School in Norwalk, Connecticut, a failing school who felt pressured to raise their test scores after the 2010-2011 school year, estimated that they spent about 22 percent of the school year preparing their students to pass reading and math exams by using test preparation workbooks.
Photo Credits
Creatas/Creatas/Getty Images