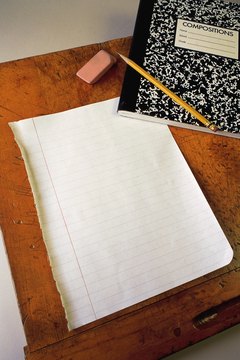 Your thesis statement should grab the reader's attention.
The thesis statement is a crucial part of any essay. Located in the first paragraph, it provides a brief synopsis that tells the reader what subject follows. The process of creating a thesis statement helps to organize your ideas and forms a foundation for your narrative. In the case of an autobiographical essay, the thesis statement relates to your life and the story you wish to tell. Develop a thesis statement by finding a significant event in your life and building on it.
Brainstorm
Brainstorm significant life events and write down any memories you come up with. To get started, write down your personality characteristics, likes, dislikes, beliefs, goals and ambitions. Move on to your family. Write down their names and the ways they have affected you. Note where you were born and any milestone events or life-changing experiences. Ask yourself questions such as "What word best describes me?" and "Who has been the biggest influence on my life?" The goal is to come up with a meaningful thesis statement that will engage your reader's attention.
Grab Attention
Once you have explored your history, select a significant moment or piece of information to act as an attention grabber. It should be something that relates to the body of your essay. Your thesis might be something like "As a child, I would sneak out of my bedroom at night each time I heard my mother come home from work. I listened in the hallway as she told my father about her experiences as a nurse in a busy emergency room. Those unforgettable tales of trauma and pain helped me become who I am today."
Evaluate
Evaluate your thesis statement to assess its effectiveness. A strong thesis takes a position on a subject. In the thesis above, the position is that the emergency room horror stories the author overheard have had a lifelong effect. Be sure your thesis makes only one main point. This will ensure you don't confuse readers about the subject of your essay. It also helps you to restrict yourself to a manageable subject.
Read
As with any writing task, look to experienced writers for inspiration. Read several autobiographical essays and books and examine the techniques that successful authors use in their opening paragraphs and thesis statements. Well-written examples may trigger your own memories and help you to examine your life in a new light. Remember that events and people that seem commonplace to you might make an intriguing story to others with different life experiences.
Photo Credits
Comstock/Comstock/Getty Images