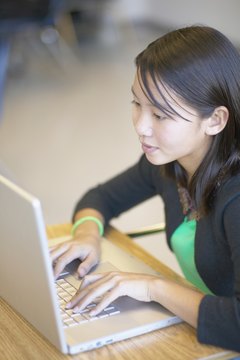 A quality resume is a way to distinguish yourself from many other applicants.
Depending on the prestige or admissions requirements for the school of your choice, a college admissions resume could be a major factor in determining your acceptance to a college or university. Colleges are most interested in the events from your high school years, and you can adapt each resume you send to highlight achievements each of your prospective colleges would be interested in, according to College Board.
Reflect and List
Reflect on and list your accomplishments from each of your high school years. According to Peterson's, college admissions boards generally consider past accomplishments to be a good indicator of future accomplishments, so list everything significant or noteworthy. When you reflect on major accomplishments, academic highlights or extracurricular activities, you can hone in on accomplishments worth mentioning in your application resume. On the resume itself, you might chronicle the major achievements of each year of high school in a list, or divide them up into categories.
Prioritize
College admissions boards will be sifting through countless admissions applications and resumes, and you should prioritize what accomplishments admissions boards would be interested in, as Peterson's reports. Depending on how involved you were in various activities throughout high school, you might have accrued a substantial list of club memberships, leadership positions, sports championships or other accomplishments. While college admissions boards look for well-rounded applicants, they are more interested in finding students who will be a good fit for their university. A first-place award in a robotics competition might be more important for a prospective engineering student to include than a first-place award in a band competition, especially if you are pressed for space on your resume.
Market Yourself
Use your resume to describe your uniqueness and market yourself to the admissions boards. While many students might have similar applications, resumes help show colleges why you would be an asset to their school. Boston University recommends that the items you include on your resume be geared toward convincing admissions boards to offer you an interview or, ideally, an acceptance letter.
Compose and Proofread
Edit your final list of achievements to make your resume fit on one page, the resume length that the Purdue Online Writing Lab recommends for high school students. You might categorize your resume chronologically, including a category for each year of high school. An accomplishment-based resume might be a good option as well, including categories such as academics, sports, clubs and groups, awards, jobs or extracurricular activities. Proofreading is an important final step before presenting college admissions boards with the best reflection of your achievements. Grammatical or spelling errors or other mistakes in your resume could be distracting to admissions boards, according to the University of Idaho's Tippie College of Business.
Photo Credits
Jack Hollingsworth/Photodisc/Getty Images