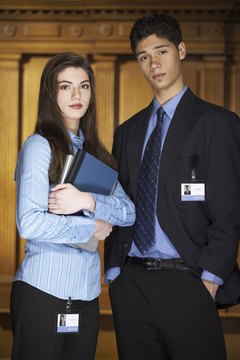 The more impressive cover letter and resume may earn the internship interview.
College students encounter opportunities for internships providing them with exposure to their industries of interest before they graduate. An internship is a win-win situation, as students gain experience in their chosen career field, college credit and sometimes income, while the company gains a fresh intern on its team. Before landing an internship, you must convince the company that you are the perfect candidate, starting with your cover letter and resume.
Resume Writing
Your resume should contain your contact information on letterhead. You will list your education, including special courses relevant to the internship, experience and skills. You also can add other sections that showcase your strengths, such as awards and achievements. Customizing your resume according to the internship specifications is important. For example, a National Institutes of Health internship applicant can insert "conducted biomedical lab simulations" under the skills section. Your resume information should complete, but brief.
Cover Letter Writing
In your cover letter, you will introduce yourself, acknowledge your interest in the internship and explain the attributes you have to offer to this particular company or organization. Instead of writing "To Whom It May Concern," you should identify your intended recipient by name or company and department. While you will focus on the strengths that are relevant to the internship, you can elaborate on all your best qualities.
Match and Support
When you apply for an internship, the goal in your cover letter is to show the company why you would make a good match. Including key words from the internship description in your cover letter and resume, indicates that you know about the position and are a suitable fit for the company. Support those key words with examples from your experience. For instance, if you are applying for a newspaper internship that calls for excellent communication skills, you can point out your background in interviewing for interpersonal communication and reporting for written communication.
Internship Application
The letterhead on your cover letter and resume should appear the same. You should proofread them both thoroughly. Spell-checking is good, but also make sure that all of your words are correct in context, because even if they are spelled correctly, errors are still possible. Paying attention to details in your application suggests that you will pay attention to details in the internship, if you get it.
Photo Credits
Jupiterimages/Photos.com/Getty Images