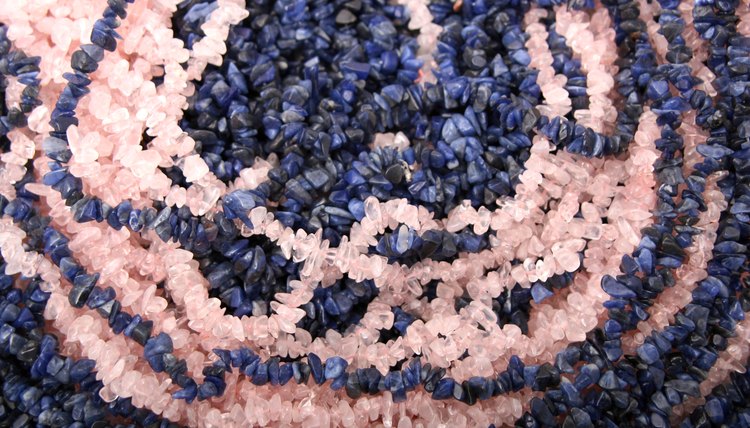 A close-up of rose quartz and blue lapis lazuli necklaces.
The gemstone lapis lazuli is deep blue and sprinkled with gold pyrites that create a gold dust effect in this opaque stone. Lapis jewelry has been found in several Mediterranean archaeological excavations, indicating that it has been used in the decorative arts for a considerable length of time. Many gemstones are attributed a meaning; for lapis, that meaning is friendship and truth, according to the International Colored Gemstone Association.
Lapis Legend
Wear lapis and you will be more authentically you, the ICGA says. You'll also be able to give your opinion more easily, and the gemstone will help you have more harmonious relationships. The association with truth comes from the ancient Egyptians. The chief justice wore an image of truth -- called Ma -- made of lapis lazuli around his neck, according to Fara Braid at the International Gem Society. In the 18th century, European aristocrats wore lapis -- or gave gifts of it -- to say "good luck" or "love me."
Photo Credits
photomorgana/iStock/Getty Images