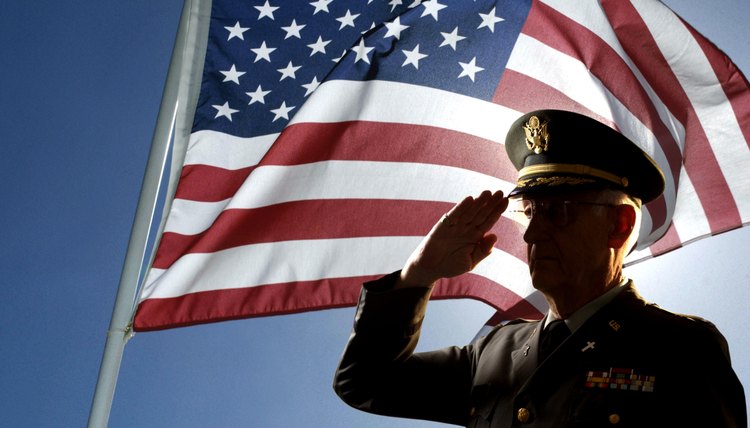 Colored ribbons are used as lightweight medals.
Military uniforms carry a lot of hardware on them with badges of the unit the person belongs to, rank insignia and medals. Higher ranking officers also carry a large number of colored ribbons, or bars, on both the left and right side of the jacket when wearing a dress uniform. These are similar to medals, but are used to save space and to indicate generalized medals won by many people.
Citation Bars
Citation bars are used instead of medals on a uniform and indicate outstanding service in an area. These ribbons include the Purple Heart, a purple ribbon with white trim awarded for being wounded in battle, and the Medal of Honor, five white stars on a blue background.
Service Bars
Service bars are used to denote years in the military or places where they have served. For example, people serving in Vietnam received a yellow ribbon with green on the edges with three red stripes in the middle, and a blue and white striped bar is awarded for serving with the United Nations.
Indicator Bars
Indicator bars are issued for personal awards in the service. For example, a ribbon is awarded if the soldier is a training officer or is assigned to a certain specialist unit. If a soldier has served with a police SWAT team they are allowed to wear a black bar. These also include marksmanship awards, good conduct medals and service in another branch of the armed forces.
Memorial Bars
Memorial bars are issued posthumously for people killed in military action. The bar is presented to the family. These are made of metal, whereas the others are fabric, and bear the name of the deceased, rank and date of death.
References
Photo Credits
Thinkstock/Comstock/Getty Images