Through special effects makeup, artists transform young to old or the human into the extraterrestrial. Special effects makeup is used in theater, film and television, and the field is highly competitive. While most special effects makeup courses are offered on the east and west coasts, Utah does have a handful of schools that offer these classes.
Brigham Young University
Brigham Young teaches three levels of makup courses.
Brigham Young University (byu.edu) in Provo, Utah, offers courses in theatre makeup as part of its theatre arts program. At the beginner level, students learn about the basics of makeup for television, movies and the stage. This course is a prerequisite for the intermediate and advanced courses, which move into the more advanced techniques of using prosthetics and wig-making. Students in the Brigham Young makeup courses assist with department productions, providing hands-on experience outside of the classroom or lab.
Salt Lake Community College
Community theatre participants interested in makeup can take a course at SLCC.
Located in Salt Lake City, Salt Lake Community College (slcc.edu) includes special effects makeup within the courses offered in the performing arts department. SLCC focuses on stage makeup rather than makeup for television or film. The school offers one makeup course, which teaches introductory principles of prosthetics and hair, as well as techniques for aging and period makeup. There is no prerequisite for the course, and it is transferable to most four-year colleges and universities.
Utah Valley University
Utah Valley teaches three-dimensional mask-making as part of its special effects makeup course.
Utah Valley University (uvu.edu), located in Orem, offers two makeup courses as part of its school of theatre arts. Both Utah Valley courses focus on both stage and screen makeup, preparing students for careers in theatre, film or television. Makeup I focuses on corrective makeup, aging and period makeup. Students learn how to develop a character through physical appearance. In Makeup II the students study advanced techniques in understanding and creating characters, as well as learning about prosthetics, masks and airbrushing.
Weber State University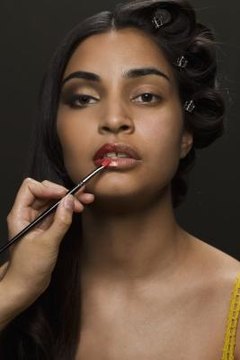 Weber University teaches basic stage makeup for theatre majors.
Weber State University (weber.edu) in Ogden, Utah, has one makeup course in its theatre arts program. Stage Makeup focuses on makeup application for stage performances and is designed to give students the necessary skills in order to properly apply makeup. Students learn basic techniques and ways to create specialized and creative looks. The eight-week course is required for theatre arts majors.
Photo Credits
Digital Vision./Digital Vision/Getty Images