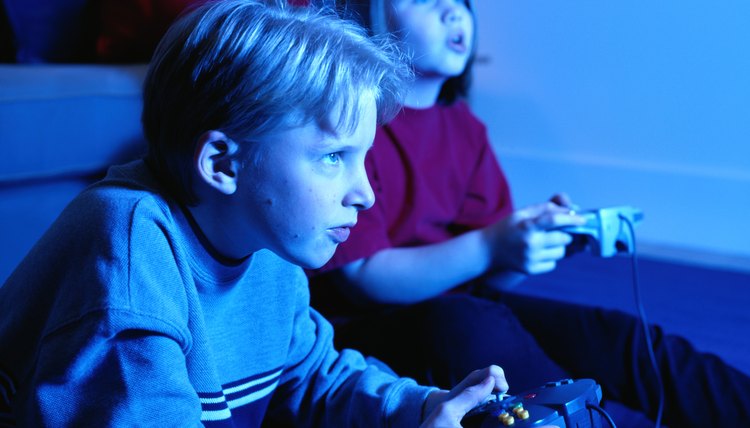 Students with degrees in animation and digital arts create realistic video games.
If you are a creative person with a passion for animation and the digital arts, you will want to consider a degree from a college or university in this industry. Professionals in animation and digital arts go on to lead successful careers in cinema, television, advertising, video games and a number of other similar fields. By learning about some of the schools that offer animation and digital arts degrees, you can better prepare for your future.
University of Southern California
University of Southern California isn't just known for the Trojans, but also for their Bachelor of Arts degree in animation & digital arts. The degree is offered through a union of two academic departments -- the College of Letters, Arts & Sciences with the School of Cinematic Arts. This amalgamation grants students a broad foundation in liberal arts while providing them with a specialization. Students enrolled in this program take various courses that include experimental animation, character animation, 3D computer animation, visual effects, interactive animation and science visualization.
Cogswell Polytechnical College
Cogswell Polytechnical's Bachelor of Arts Degree in Digital Art and Animation (DAA) is broken down into four areas of focus: 3D Animation, Game Design, Entertainment Design, and 3D Modeling. The curriculum is a hybrid of digital and traditional arts classes that stress the accoutrements of production, theory and general education. The college offers a special portfolio class that opens the doors to uniting all of the conceptual fundamentals thus allowing students to collaborate on multidisciplinary teams to create original projects.
DigiPen Institute of Technology
If you seek a Bachelor of Fine Arts (BFA) degree in digital art and animation, DigiPen Institute of Technology offers a program to train students to create art work at professional levels. Students learn how to use the latest in innovative computer software that aid in creating some of the visually stunning animation and digital art that exists all around us. Students also learn production in 2D and 3D animation, better drawing techniques, strong storytelling abilities and the processes of modern studios.
Missouri Western State University
Missouri Western State University's Department of Art offers the BFA in digital animation with the intent to prepare students to produce a broad range of animation for gaming, television, cinema and interactive media. The university requires students to take ART 110 Beginning Drawing, ART 120 Two-Dimensional Design and ART 130 Introduction to Tools and Techniques before they can enroll in the BFA degree program. Once enrollment satisfactions are met, students take a number of courses in digital animation and engage in an independent study program in which they investigate a topic and research it through an individual conference with an academic advisor.
Photo Credits
Ryan McVay/Photodisc/Getty Images