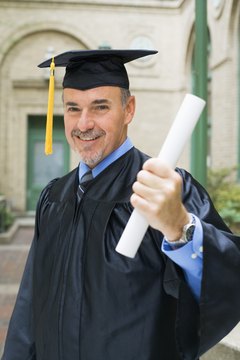 A college degree can serve as a springboard to career and income advancement.
There are a variety of college degree types available to those interested in advanced education, training or certification. Students may attend college for two years and receive an associate degree or attend college for four years and receive a bachelor's degree. A master's degree can be earned after a bachelor's degree is obtained and may take one to two years to complete. A doctorate degree can be earned after a master's degree program has been completed. However, a degree in law (JD) is a professional degree that can be earned after the bachelor's degree.
Associate Degrees
An associate degree is a college degree that can be obtained after only two years of college. Associate degrees may be all that is required for entry or advancement in some industries. For instance computer programing, health care technology and electronics are career fields for which only an associate degree is required. This degree type offers an alternative route to a college education. It costs less than a traditional four-year program and takes about half as long to complete Earning an associate degree may facilitate a career change, advance one's career path or enable the holder to increase income over what is obtainable with a high school diploma.
Bachelor's Degrees
The bachelor's degree is the name for the traditional four year degree, often referred to as an undergraduate degree. There are a wide variety of bachelor's degrees that include but are not be limited to bachelor of fine arts, bachelor of science and bachelor of arts. A bachelor's degree is required to pursue an advanced degree such as a master's or doctoral degree. The bachelor's degree curriculum is composed of a group of college core courses and courses from the chosen major.
Master's Degrees
A master's degree is the degree that follows the bachelor's degree and may be sought in an effort to increases one's pay or position within a field. Master's programs vary in length from institution to institution and according to the chosen field of study. For instance, a student might choose to pursue a master of education, master of business administration or a master of science. These programs may take one to two years to complete and serve as the prerequisite for admission to a doctoral program.
Doctorate Degrees
Doctoral degrees are types of degrees commonly referred to as terminal degrees. This is because the doctorate degree is considered to be the last degree one can obtain in an educational pathway. Doctoral programs typically take three to six years to complete. There are also professional doctorate degrees such as a juris doctor (JD), the degree required of all attorneys and the MD, or medical degree. Doctor of philosophy (Ph.D.) and doctor of education (Ed.D) are common doctorate degrees.
Photo Credits
Creatas Images/Creatas/Getty Images