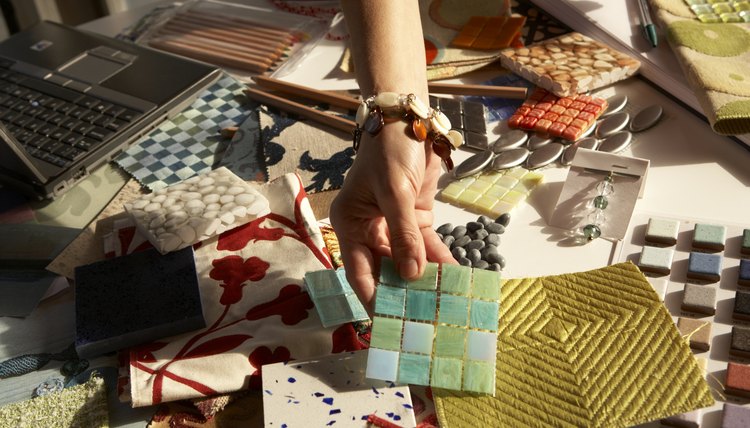 A master's degree can help you move up as an interior designer.
A master's degree in interior design can increase your marketability in this competitive field. Interior design master's degrees can strengthen your existing design resume with advanced coursework, allow you to specialize in an area within the field, or provide the training you need to start a new career in interior design. Wherever you are in your career, there is an interior design graduate program that can help you transition to the next phase.
Start Fresh
A master's degree in interior design can be a starting point for your new design profession. If you have a bachelor's degree in another field, but would like to transition to interior design, complete a "first professional" degree in interior design. These programs start with the basics and offer a comprehensive curriculum to fully prepare you to work as an interior designer. The Master of Science First Professional program offered through Florida State University's interior design department caters to applicants with no prior experience or education in the field and prepares graduates to become licensed interior designers in most states.
Get Competitive
With a bachelor's degree in interior design, you can apply to post professional master's programs. These programs are considered advanced and incorporate courses geared toward experienced practicing interior designers. Post professional programs also take less time to complete than first professional master's degrees. The Post Professional Master of Interior Design program at the University of Texas is only open to applicants who hold bachelor's degrees in interior design and the curriculum focuses on design theory and advanced studio experience. A post professional master's degree is for designers who want to compete for high-level, commercial and project management positions. They can also position you to teach interior design courses at colleges and universities.
Get Specialized
Sustainable or "green" design is the must-have specialization in the design and architecture fields. Master's degrees in sustainable design address the use of materials and engineering concepts to create design solutions with safer, healthier and more efficient outcomes. These programs often come with a strong architecture component and are geared toward working interior designers with bachelor's degrees in interior design or architecture. For example, the Master of Science in Sustainable Design at the University of Minnesota is tailored for design professionals in a range of fields, from architecture to product design.
Start Building
A master's degree in architecture prepares interior designers for complex designs in which structure and engineering are key factors. Designers with undergraduate degrees in interior design may be eligible to apply for post-professional architecture master's programs. Otherwise, they can pursue first professional programs, such as the Master of Architecture Option 1 at Rice University, a professional architecture program for applicants with no prior experience. Interior architecture is a new discipline that utilizes concepts from interior design and architecture. Degrees in this field can also be completed at the master's level in first professional and post professional capacities. The University of Oregon Department of Architecture offers Master of Interior Architecture programs for professionals as well as career-changers.
Resources
Interior Design; John F. Pile
Photo Credits
Tay Jnr/Digital Vision/Getty Images