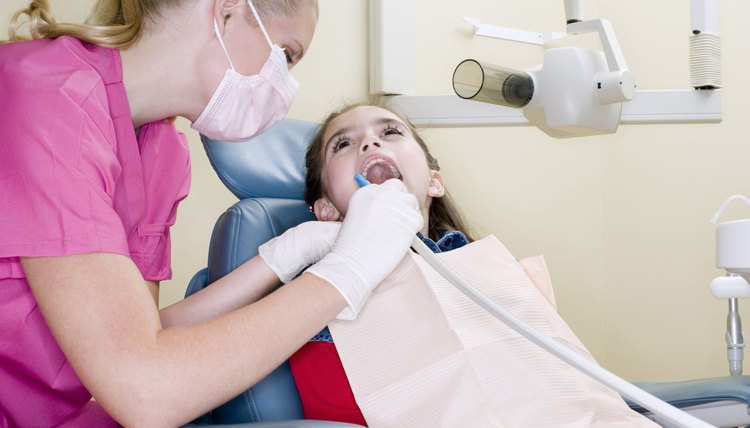 Dental hygienists work in dentists' offices with other dental professionals.
Students interested in the field of dentistry and oral health but who may be concerned about the length and cost of the required education to become a dentist may want to consider becoming dental hygienists. Dental hygienists work alongside dentists to clean teeth, take X-rays and assist patients with oral hygiene education. According to the U.S. Bureau of Labor Statistics, dental hygienists earned an average of $70,700 per year as of May 2012. With the BLS forecasting 38 percent employment growth from 2010 to 2020, graduates of approved dental hygiene education programs also enjoy good employment prospects.
Entry-Level Hygienist Programs
Students can become dental hygienists by completing either a certificate, associate degree or bachelor's degree program. According to the American Dental Hygienists' Association, there is an average of 2,190 hours of curriculum across all entry-level programs. For admission, most programs require a GED and the completion of high school classes in math, biology, English and other general topics. As of 2013, the ADHA lists 335 schools with entry-level dental hygienist programs, including 290 associate degrees, 53 bachelor's degrees and eight certificate programs.
Dental Hygiene Required Coursework
General education courses required for a dental hygiene degree or certificate include speech, English and psychology. Science courses cover chemistry, biochemistry, anatomy, nutrition and pharmacy. Students also take specific dental courses such as oral pathology, dental materials and radiography. Dental hygiene courses in patient management, dental emergencies and oral health education are also necessary. All dental hygienist training programs, regardless of the type of credential earned, include clinical experience. This training may take place at educational facilities, community groups or hospitals, and accredited programs require an average of 684 hours of clinical work, according to the American Dental Hygienists' Association.
Associate vs. Bachelor's Degree
Both associate and bachelor's degree programs are entry-level, but bachelor's degrees also prepare students for careers in education, public health and research, among other options. Bachelor's degree programs offer a greater number of instructional hours than associate degree programs, but both programs generally include the same amount of instruction and labwork related to patient care. However, bachelor's degree programs have more hours for clinical work, as well as writing, chemistry, patient management and other topics. According to the ADHA, associate degree programs require an average of 86 credit hours, while bachelor's degrees require 122 credit hours. Four-year bachelor's degree programs may be structured so that students complete general prerequisites in the first two years and then apply for admittance to the professional program.
Master's Degree Options
Dental hygienists who go on to earn a master's degree can prepare for careers in education, research and health administration. The ADHA listed 22 available master's degree programs in dental hygiene as of 2013. In their master's degree studies, dental hygiene students may be able to concentrate in an area such as public health or dental education. Courses may cover topics such as statistics, leadership, student teaching, public health issues and advanced topics related to oral health.
Photo Credits
Creatas Images/Creatas/Getty Images