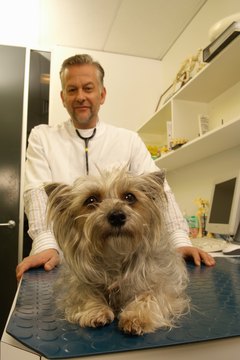 Earning a degree in veterinary medicine will allow the veterinarian to choose from a wide variety of careers in working with animals medically.
Earning a veterinary degree from a top veterinarian school will result in students becoming Doctors of Veterinary Medicine. The top programs will provide students with individualized mentoring by experienced faculty and field experience necessary to become a successful veterinarian. It takes about four years to complete a veterinarian degree at one of the top schools, not including the completion of undergraduate college courses and prerequisites before entering a veterinarian school. Students who have completed veterinarian school can go on to work in aquatic medicine, animal toxicology or animal surgery, among many other specialties, according to "U.S. News and World Report."
Cornell University
"U.S. News and World Report" ranks Cornell University the top veterinarian school in the country. This research university offers students advanced training and education in veterinary medicine. Students will have diverse opportunities to work hands-on at one of the many partnerships the program has developed. Additionally, faculty members teaching in the veterinarian school at Cornell University are veterinarians who have experience in the field. Before entering this program, Cornell requires students to have completed ninety credits and all of the prerequisite coursework, according to Cornell's admissions office.
University of California - Davis
Ranked second by "U.S. News and World Report," the University of California-Davis offers a four-year veterinary program. Students in this program will complete clinical work and academic studies in a variety of animal health and science subjects. Also, students will choose a specialty to conduct research on during their later years in the program. One of the requirements before entering this veterinary program is a completed bachelor's degree.
Colorado State University
Colorado State University offers a veterinary medicine program tied as the third top school by "U.S. News and World Report." Admission into this program is open to all students from any background of study and enrolls approximately one hundred and forty students every year. During the last two years of study in this program, students will work side by side with experienced clinicians at the Colorado State University Veterinary Teaching Hospital to gain practice in the veterinary field.
North Carolina State University
Tied for third top veterinary school by "U.S. News and World Report," North Carolina State University's veterinarian program allows its students to complete a one to three year residency training program. This program emphasizes a focus on six specific areas of research from which students can choose. Additionally, there is a teaching animal unit on-campus at which students can intern and develop their skills. The College of Veterinary Medicine at North Carolina State University currently has about three hundred and thirty enrolled veterinarian students.
Photo Credits
Dean Golja/Digital Vision/Getty Images