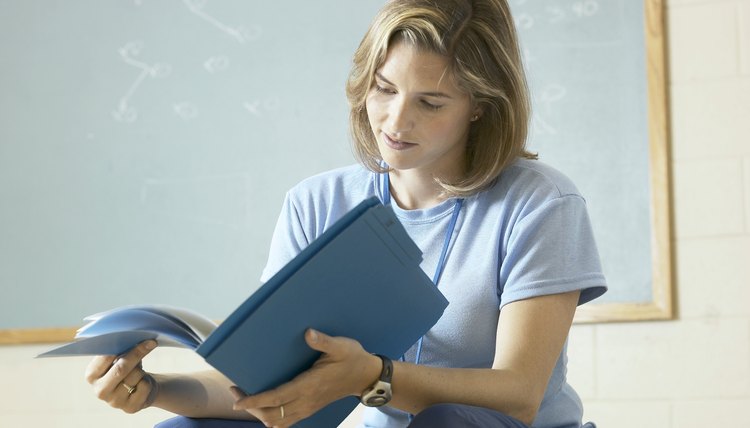 Physical education majors pursue many careers besides teaching.
Teaching physical education to youngsters and young adults is a rewarding career. Physical education teachers have the opportunity to encourage students toward a lifelong path of healthy activity. However, a degree in physical education can lead to many careers beyond the elementary or high school gym. Physical education degree holders become wellness center directors for large corporations, physical rehabilitation counselors and personal trainers. Top colleges and universities offer undergraduate and graduate programs in physical education that incorporate concentrations or minors, allowing students to tailor a degree to individual interests.
Ball State University
Ball State University Teacher's College in Muncie, Indiana offers a Bachelor of Arts in educational studies for physical education majors that prepares students to teach kindergarten through 12th grade. Academic minors include human development, interpersonal relations and educational technology. Ball State emphasizes student collaborations with local neighborhoods and communities as far away as Malawi, Africa. Undergraduates also have the opportunity to work in one of the local, university-sponsored charter schools. In 2012 the college received national recognition from the American Association of Colleges for Teacher Education and the Southern Poverty Law Center for its Schools Within the Context of Community immersive learning program.
Ohio State University
In 2013, the graduate education programs at Ohio State University's College of Education and Human Ecology in Columbus received several top ten rankings from U.S. News & World Report, including a ranking of sixth for curriculum and instruction. The college awards a Bachelor of Science degree in education/physical education, sports and physical activity. The physical education track prepares students to teach physical education to grades kindergarten through 12th grade. The physical activities specialist track provides the training necessary to become a coach or recreation center teacher and supervisor, or to work in the health club industry.
The University of Texas, Austin
The Bachelor of Science in kinesiology and health education from The University of Texas, Austin, offers a major in applied movement science for students pursuing a physical education teaching position at the elementary or secondary school level. Majors are also offered in exercise science, health promotion, physical culture, and sports and sports management, all of which are eligible for state teaching certifications. The university is home to the Fitness Institute of Texas, which opened in 2001. The institute serves the Austin community as well as university students and offers research, service, training and educational programs in physical activity, nutrition and behavioral health.
The College of New Jersey
The College of New Jersey was named a Best Value College for undergraduate education by the 2013 issue of The Princeton Review, which noted the school's 100% pass rate for students taking the state teacher preparation test. The college offers a Bachelor of Science in physical education, which prepares students to teach physical education at the kindergarten to 12th grade levels. Students may also choose to focus on health and exercise science, which studies subjects such as physiology, anatomy, nutrition and metabolism. This course of study prepares students to work as personal trainers or continue their education with graduate work in physical and occupational therapy.
Photo Credits
Hemera Technologies/AbleStock.com/Getty Images