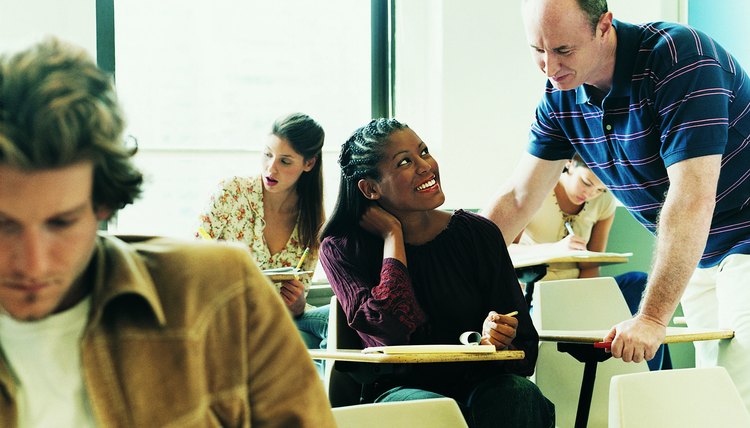 Business majors learn about the roles and techniques of modern businesses.
Undergraduate business programs prepare students for managerial positions in a variety of business careers. Programs often allow students to choose between business administration, finance, marketing, accounting and information systems. Many business schools incorporate liberal arts course work along business internships into their curricula. California-based students looking to pursue an undergraduate business degree may wish to investigate some of the top-ranking options in their state.
University of California Berkeley
"U.S. News & World Report" lists UC Berkeley's Haas School of Business as California's top-ranking business school. The bachelor's degree program – integrated with the school's liberal arts program -- is designed to help students understand the roles and techniques of modern business. Because the program is integrated with Berkeley's liberal arts program, business majors balance out their education with a dose of the arts and sciences. Core courses include analytic decision modeling using spreadsheets; microeconomic analysis for business decisions; and the social, political and ethical environment of Business. Haas also offers a Ph.D. in business administration and an MBA degree.
University of Southern California
According to "Businessweek," the University of Southern California's Marshall School of Business is one of the best in the country. USC offers a bachelor's degree in business administration that focuses on preparing students to be business leaders and managers. All incoming freshmen can take part in the school's Learning About International Commerce (LINC), designed to familiarize students with business practices in other parts of the world. Students participating in LINC take a two-unit course in international business and an eight-day trip outside the U.S. to meet with business leaders.
Santa Clara University
"Businessweek" ranks Santa Clara University's Leavey School of Business just below USC when it comes to an undergraduate business education in California. After spending the first two years taking courses in the liberal arts, business students choose between six specializations: accounting, accounting and information systems, finance, economics, management, marketing, and operations management and information systems. Business majors get opportunities to gain real-world experience, as well as course credit, through school-sponsored internships.
University of San Diego
Another consistent high-ranker with "Businessweek," University of San Diego's School of Business Administration offers eight different majors, including business administration, business economics and marketing. Regardless of major, SBA business course work generally involves case studies, consulting assignments and group exercises. The business school is accredited by the Association to Advance Collegiate Schools of Business, and it also offers specialized business master's degrees and full-time MBAs.
Photo Credits
Digital Vision./Digital Vision/Getty Images