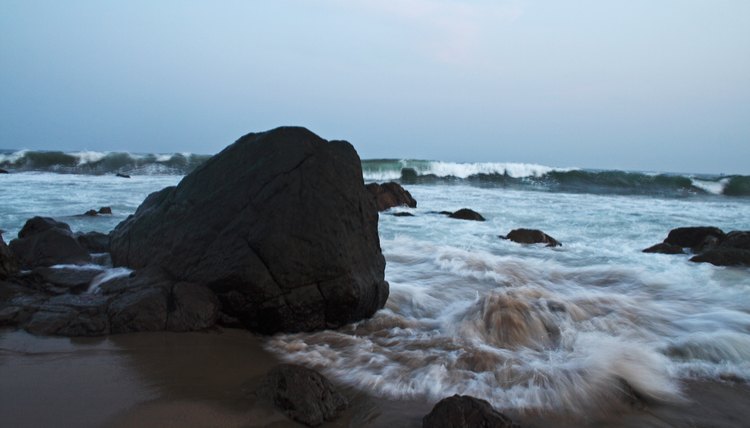 Marine science involves the study of disciplines such as biology and geology.
Marine science is a broad area of study within which students typically specialize in a sub-field such as marine biology, marine chemistry or ocean geology. Career opportunities in marine science are increasing as the demand for new sources of energy, food and water rises. A better understanding of the ocean also will aid scientists in determining how to better care for ocean environments and the species that call the great oceans their home. Attending one of the top colleges for marine science will provide students with experienced instructors in marine science as well as state-of-the-art facilities and valuable internships.
University of Miami
In Florida, the University of Miami's marine science program was established in 1949 and now is offered through the Rosenstiel School of Marine and Atmospheric Science. The school offers three undergraduate options in marine studies. The Bachelor of Science in marine science is a double major course of study combining marine science with biology, chemistry, geology, physics or computer science. The second degree option is a Bachelor of Arts in marine affairs. This program is designed for students pursuing a career or graduate studies in areas such as law or economics as they apply to marine affairs. A third option is a five-year combined Bachelor / Master of Arts in marine affairs.
University of South Carolina
The University of South Carolina School of the Earth, Ocean and Environment in Columbia offers bachelor's, master's and Doctor of Philosophy degrees in marine science. The program is large, enrolling about 330 undergraduate and graduate students, but flexible, and allows students to individualize their curriculum. Specializations include biological, chemical, geological, or physical oceanography or coastal resource management / marine affairs. The program is research-oriented and multi-disciplinary. Field work is frequent and includes research in coastal areas as well as inland waterways such as the Okefenokee Swamp.
University of Maine
The School of Marine Science at the University of Maine in Orono offers a Bachelor of Science in marine science and master's and doctoral degrees in oceanography and marine biology. It also offers a master's in marine policy and a dual degree of marine policy with oceanography, marine biology or aquaculture. The undergraduate program combines traditional coursework with laboratory research and field trips. Concentrations are offered in aquaculture, marine biology, and physical marine science. A minor in fisheries also is an option. The school also hosts Semester by The Sea, a total immersion program in marine science during which students are in residence at the Darling Marine Center on the Maine coast.
University of San Diego
California's University of San Diego College of Arts and Sciences puts forward options of a Bachelor of Science and a Master of Science in marine science. Students in the undergraduate program follow either a biology or earth systems pathway. The biology pathway focuses on biology and physiology while the earth systems pathway includes study of maps analysis, hydrology and geology. The Master of Science in marine science program combines coursework with independent research. Applicants to the masters program should prepare a statement of purpose including the student's specific research interests.
Photo Credits
Visage/Stockbyte/Getty Images