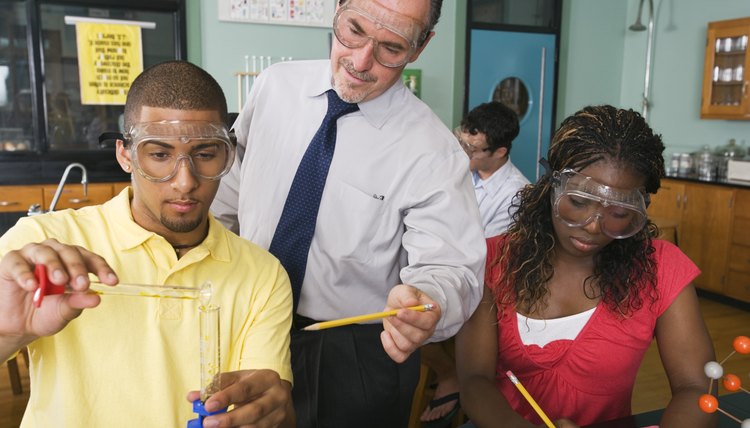 The best schools for pre-veterinarians offer strong math and science classes.
The best schools for prospective veterinarians work with undergraduates to ensure that they complete the required math and science classes to be admitted to a veterinary medicine school, according to the Princeton Review. Although all students with strong math and science skills and an interest in animal health are eligible for veterinary school admission, schools with top-notch schools of veterinary medicine often offer some of the best undergraduate training programs for prospective veterinarians.
Cornell University
Pre-veterinary students at Cornell University major in the subject area of their choice while they complete the required math and science courses needed to apply to the College of Veterinary Medicine, which ranks first in the nation among veterinary schools, according to U.S. News & World Report. Prerequisite courses include biology, zoology, organic chemistry, physics and microbiology. Cornell University's student-run Pre-Veterinary Society presents a valuable opportunity for the college's undergraduates to discuss courses needed for veterinary school admission or tips to improve their applications.
University of California-Davis
Although the University of California-Davis does not have a specific pre-veterinary medicine major, majors including animal biology, animal science or wildlife are common educational paths for many of the school's pre-vet students, according to the school's website. Students in each of these majors take many of the same classes and are able to complete the required prerequisites for the School of Medicine. Typical classes include general and organic chemistry, physics and physiology.
Purdue University
Purdue University helps students prepare for vet school by helping them take the needed undergraduate courses to qualify for admission to the university's top-notch veterinary medicine school. Students are free to select from Purdue's large variety of undergraduate majors based on their personal interests and academic abilities and then take the courses required for veterinary school admission. Many choose majors within the College of Agriculture or College of Science, although majors within other colleges can meet the prerequisites for veterinary school as well.
Stanford University
Stanford University is one of the most well-known and prestigious universities in the country and ranks sixth overall according to 2013 U.S. News & World Report data. Prospective veterinary school applicants have the opportunity to mingle with other like-minded undergrads as part of the Stanford Undergraduate Pre-vet Club. Members of the club discuss career options, network and learn about the specific requirements for veterinary school application. The university works with interested undergraduates to ensure that they complete the most commonly needed pre-vet courses, including general and organic chemistry, physics, biology, physiology and genetics.
Photo Credits
Creatas Images/Creatas/Getty Images