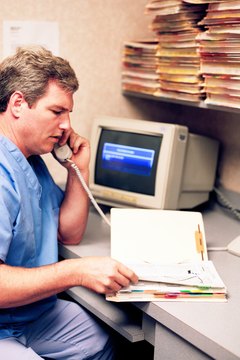 Health information technology staff are important members of a health care team.
Health information technology, also referred to as health or clinical informatics, is one of the fastest growing occupations in the country. The most prestigious HIT doctoral programs prepare scholars to serve in leadership positions and perform advanced research in medical, health and academic environments. HIT professionals focus on the technical aspects of health information management and exchange, concentrating on ensuring quality, accuracy, accessibility and security of patient data. Authoritative rankings of HIT programs are not available; however, the American Medical Informatics Association maintains a list of schools offering skilled faculty, rigorous academic curricula and outstanding research opportunities.
Indiana University-Purdue University Indianapolis
Indiana University's School of Informatics and Computing is the first school of its kind in the U.S. The school houses two health information technology doctoral programs, the Ph.D. in Informatics with a health informatics specialization and Ph.D. in informatics with a bioformatics specialization. Each program requires 90 credit hours of course work. Doctoral students at Indiana University have access to valuable resources that supplement classroom instruction, such as the Informatics Research Institute, which is committed to researching policy and socioeconomic issues arising from information technology and informatics applied to areas such as health, medicine, biology and chemistry.
University of Minnesota
The University of Minnesota has been educating students in health informatics for nearly 50 years. The Doctor of Philosophy in Health Informatics is a multidisplinary program requiring 70 credit hours of course work. The Institute for Health Informatics located on the Minneapolis campus serves as the headquarters for informatics research and education. University of Minnesota faculty members are dedicated to research and scholarship, and several have been elected as American College of Medical Informatics fellows.
University of Missouri Columbia
A leader in health informatics research since the 1960s, the University of Missouri has provided health informatics education to students since the 1970s. Students can earn a Ph.D. in Informatics with emphasis in health informatics at the University of Missouri. Students focus their studies on four areas: health systems informatics, clinical informatics, consumer health informatics and public health informatics. The 72-credit-hour program is interdisciplinary and research-oriented. Doctoral students have the opportunity to participate in projects at research centers on campus such as the University of Missouri Informatics Institute and Center for Healthcare Quality.
University of Iowa
According to the 2014 edition of "U.S. News and World Report," the University of Iowa is a top-ranked university. The university's Ph.D. in health informatics allows students to enroll in classes taught by industry leaders. Students studying health informatics at the University of Iowa customize their study plans to highlight imaging, text retrieval, machine learning algorithms and data mining and research on classification schemas. Doctoral candidates must complete 72 credit hours of course work to satisfy graduation requirements. The university offers a diverse selection of activities and resources for students to enhance their academic experiences.
Photo Credits
Jupiterimages/Photos.com/Getty Images