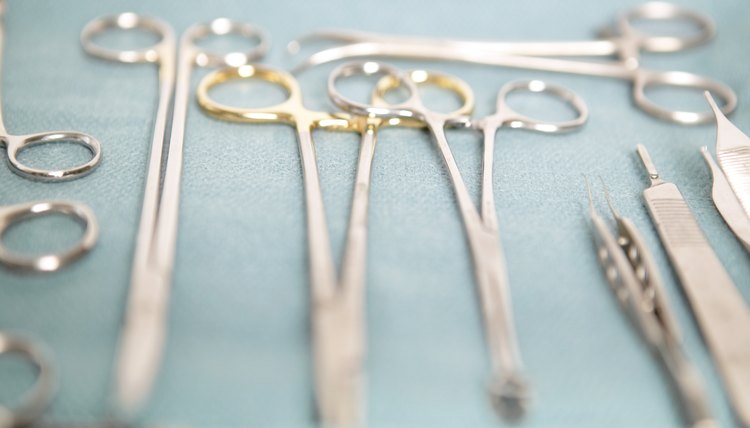 The best plastic surgery programs admit as few as two students per year.
Plastic surgery has become one of the most lucrative fields for aspiring doctors. While many people associate plastic surgery only with cosmetic enhancements, the field has developed to include a range of therapeutic and reconstructive procedures. The best plastic surgery programs in the United States are based in top-ranked medical schools and include residencies at university-affiliated teaching hospitals.
Harvard University
"US News" chose Harvard as its top college and number one school for medical research. It should come as no surprise that Harvard also has one of the best plastic surgery programs in the world. The Harvard Plastic Surgery Combined Residency Program unites all Harvard-affiliated hospitals into one comprehensive training resource for future plastic surgeons. Students in this program rotate among five teaching hospitals in Boston. Harvard's top-notch medical education, combined with this one-of-a-kind integrated residency approach, develops the skills and ethics that build a satisfying career.
Ohio State University
In addition to its "US News" ranking as one of the top 25 primary care medical schools in the country, this public university offers a top-flight plastic surgery program. As one of the only universities with its program based in a university-owned teaching hospital, Ohio State provides students with a comprehensive six-year curriculum. This combined general and plastic surgery program includes two months of intensive training on the business aspects of cosmetic surgery practice. While highly selective, this program gives students a clear pathway into a successful future in plastic surgery.
University of California San Francisco
The "US News" number 4 medical research school in the country, UC San Francisco also has one of the oldest and most respected plastic surgery programs. Founded in 1951, the Plastic and Reconstructive Surgery program features 15 clinical and 8 full-time faculty members. This six-year program combines three years of clinical study with three years of residency at renowned Bay Area hospitals. Graduates from this program are automatically eligible to enter into the American Board of Plastic Surgery certification process.
Stanford University
Stanford occupies the number 2 spot in the "US News" rankings for medical research schools. The plastic surgery residency program in the Stanford School of Medicine provides a comprehensive education over a six-year period, all of which takes place in Stanford-area hospitals. Founded in 1965, the Division of Plastic and Reconstructive Surgery at Stanford takes a sophisticated instructional approach, with emphasis on areas like craniofacial and microsurgery. This plastic surgery program also focuses on research efforts in children's reconstructive techniques.
Brown University
Brown University offers the oldest plastic surgery program in New England. Based in the "US News" top 25 Alpert Medical School, the Department of Plastic and Reconstructive Surgery was established in 1963. This residency program takes place at the Rhode Island Hospital in Providence. Students study general surgery for four years, an elective surgery for one and plastic surgery for the final two. Brown prides itself on its approach, which creates well-rounded general practitioners with a developed specialization in plastic surgery. Students in this program also get all-expense paid trips to national and international medical conferences.
Photo Credits
Jupiterimages/liquidlibrary/Getty Images