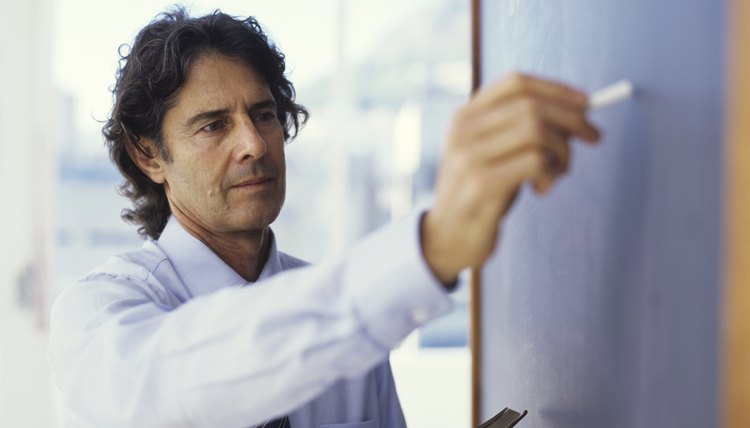 The English CSET is required for certification to teach English in a public secondary school.
If you want to teach English in California, you may need to take the California Subject Examinations for Teachers, or CSET. The California Commission on Teaching Credentialing developed the CSET for potential teachers who need to take an exam to meet certification requirements. Passing the English CSET, which meets the exam credential for English teacher candidates, takes planning, study and preparation.
Content
The first step of preparation is knowing what the exam assesses. The English CSET consists of four subtests. Subtests I and II consist of multiple choice questions, while examinees give constructed responses for subtests III and IV. Subtest I tests your knowledge of literary analysis as well as composition and rhetoric. On subtest II you'll see questions related to language, linguistics and literacy. Subtest III also relates to literary analysis and composition, but you are required to give two constructed responses. Subtest IV requires four focused responses related to speech, media and creative performance.
Study Plan
Since the English CSET is comprehensive, give yourself ample time to study. Construct a study schedule and commit to it as if you were taking a class. CTC bases the questions on California teaching standards for English Language Arts, so familiarize yourself with those first. The University of California Irvine School of Education recommends a series of materials as study aids that include Cliffs notes for literature, chapter summaries of "Contemporary Linguistics" and both grammar and journalism glossaries. Use CSET sample test questions to familiarize yourself with their construction.
Preparation
In addition to studying, take time to prepare yourself for the practical aspects of the test. First of all, take at least two full practice tests; this will allow you to train for setting an appropriate pace. You have up to five hours to take from one to all four of the subtests. Review the logistics of arriving at the testing center by getting directions or even visiting the center beforehand since you may not arrive later than the reporting time indicated on your exam confirmation. Likewise, you must have a government-issued form of identification, such as a driver's license or passport to gain admission.
Test-taking Tips
In addition to the preparation you put into your studies, basic test-taking strategies will help you pass the English CSET. Since it is not necessary to take all four subtests at once, UCI recommends spreading them over two sessions. Since subtests I and III are related to literary analysis and composition and rhetoric, group those two together. Additionally, read each question carefully, but don't spend too much time on any one question. For constructed response questions, ensure you have answered all parts of the question and review your answer. If you cannot answer all parts, do as much as you can because you can get partial credit. For multiple choice questions, an educated guess is better than leaving it blank.
Photo Credits
George Doyle/Stockbyte/Getty Images