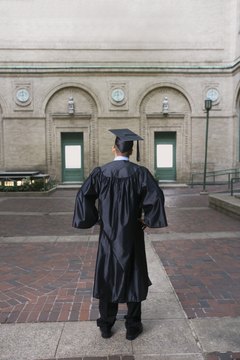 Colleges look for the most well-rounded applicants.
In applying to colleges, having achieved four years of studying and earning good grades is vitally important. However, it's not the only factor colleges look at in an effort to select which students out of thousands of applicants will be a good fit for their school community. Admissions departments often look for individuals who can bring something more than academics to their campus. There are several different ways to stand out on your application.
Difficulty of Coursework
Grades are relative, depending on the strength of your academic schedule. Getting all As in low-level courses is less impressive than doing well in AP courses, for example. Giving your GPA a boost by taking harder classes in high school shows college admissions boards that you're capable of their work load.
Summer Jobs
Being able to hold down a job in the summer while balancing other interests shows initiative and responsibility. College admissions officers will see that you are developing invaluable skills, such as work ethic and the ability to work with a team toward a common goal.
Clubs
Include every school and community-related club you've been a part of and every position you've held during your time in high school, such as secretary of the Student Council or Vice-President of the Future Business Leaders of America. Partaking in these activities shows that you are a social person capable of leading your peers. Even just being a member and not an officer in clubs can help. Don't be afraid of listing too many activities.
Athletics
Whether you're the starting point guard on your varsity basketball team or the long snapper on your football team, sports are a good way to demonstrate that you have character and that you've been developing the type of self-discipline required to get yourself out of bed and to that 8:00 AM class you had to schedule. Intramural sports count too, especially if you're involved in other activities.
Performing Arts
Playing an instrument in the band or the lead role in the senior play can go far when it comes to impressing the people in charge of admissions. These types of activities show a confidence in yourself that college admissions officers like to see in their students. Even if you got stuck playing the tree or acted as stage manager, your interest in something other than school work will shine through.
Awards
Awards are awards, no matter what you received them for. From typing the most words per minute in one of your classes to winning the science fair, awards mean that you put a lot of effort and intensity into something, and in that chosen activity, you were the best of the best among your peers.
Photo Credits
Creatas Images/Creatas/Getty Images