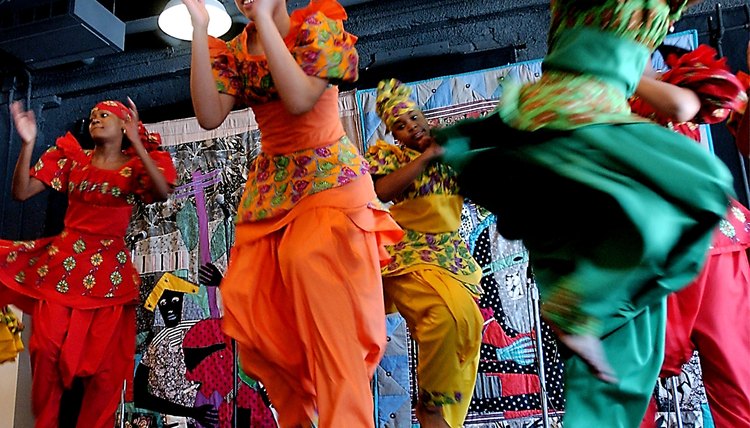 Dancers perform a traditional African dance at a festival.
The history of African Americans in the U.S. is one that is long and filled with many triumphs and tribulations. Through their experiences and accomplishments, African American's have developed many cultural symbols. African American cultural symbols are those that are commonly attributed to or strongly affiliated with Black Americans, either by the Black community themselves or other cultures.
Music
Two performers sing at a political convention.
Music is one of the most prominent symbols of the African American culture, as Black Americans have popularized and cultivated several genres. Rap, hip-hop, blues, rhythm and blues (more commonly referred to as "R&B"), soul (a combination of R&B and gospel), neosoul, gospel and jazz are examples of music genres either developed or popularized by African American music artists. Famous African American musicians from the aforementioned genres include Ice Cube, Lil Wayne, B.B. King, Deborah Cox, Aretha Franklin, Jill Scott, Yolanda Adams and Billie Holiday.
Food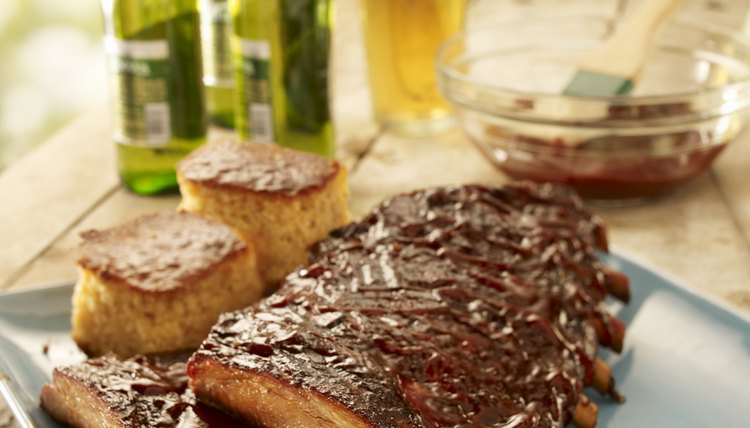 A close-up of barbecued ribs on a picnic table.
Food has been symbolic of the African American culture since the days of slavery, when food was brought to the Americas by enslaved Africans was one of the few things they were allowed to hold onto to remind them of their homelands. Cooking styles associated with the African American culture include the following: soul food, which originated in the Southern United States; barbecue, which was not originated but adopted by African Americans, and made into Southern style barbecue, Kansas City style barbecue and Cajun barbecue; Creole cooking, which comes from Louisiana mixed race people referred to as "Creoles." Other cooking styles are common in the African American community, including Caribbean and West African. Specific foods that are symbolic of African American culture include fried catfish, watermelon, fried chicken, fruit cobblers, greens, pork innards (e.g. fatback, chitterlings, hog maws), beef and pork ribs, black-eyed peas, sweet potatoes, yams and okra, which were both brought to America by African slaves.
Fashion
Three hip hop artists perform on stage.
Clothing, fashion and hair trends trends attributed to African Americans include baggy pants, tall tees, the "urban" label (e.g. Baby Phat, Akademics and Fubu clothing), bamboo earrings, cornrows, dreadlocks, weaves and extensions, the Jheri curl and the fade.
In the late 1990's, the "bling" era was ushered in by the hip hop community, and is characterized by wearing jewelry and accessories that are large and encrusted in jewels--the bigger and gaudier the piece, the more "bling" it is considered to have.
Language
A student browses through a book at the library.
Language and its association with the African American community has historically been a basis for discrimination. This is especially true of those who choose to speak Ebonics, a term for the dialect coined in 1973 by black scholars unhappy with the negative connotations associated with terms such as "Nonstandard Negro English," which had been developed in the 1960s.
Other language characteristics symbolic of African American culture include Southern accents and drawls, heavy use of slang and Creole. It should be noted that most African Americans do not speak Ebonics, Creole or with an accent, but these symbols have been attached to them by people of other cultures.
Dance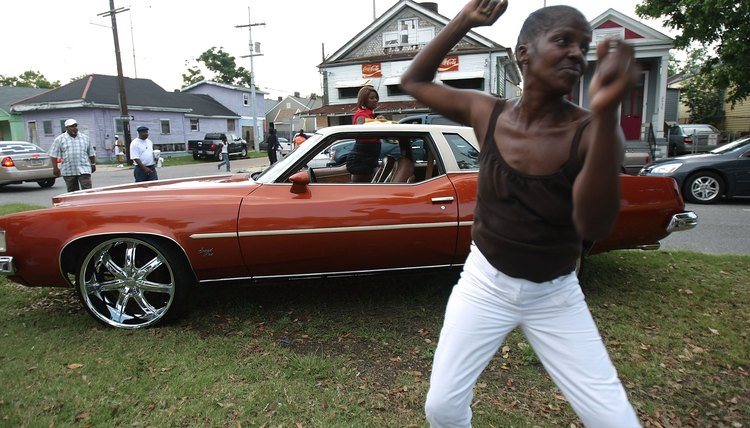 A woman dances to a car stereo on a lawn in New Orleans.
Styles of dance symbolic of the African American culture include: jazz dance, which contains elements of ballet; hip hop dance; street or club style dance; Reggae Dancehall; the Charleston; funk and disco; traditional West African dance; the "robot"; breakdance; popping and locking; the "moonwalk" or backslide, which was popularized by Michael Jackson, but first used back in the early 1930s by performers such as Cab Calloway; tap dance, which was more common in the early 1900s, but experienced a revival in the African American community in the 1980s.
Photo Credits
Stephen Chernin/Getty Images News/Getty Images