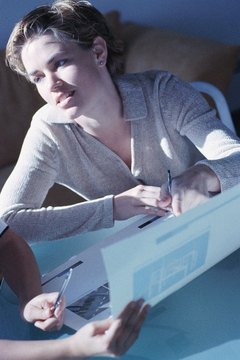 A publisher needs sharp editing skills and strong interpersonal skills.
A publisher needs to understand the editorial and business sides of book publishing. If you want this career, you need to a big-picture thinker who understands how to fine-tune details while also considering conceptual information like prospective sales, market trends and business relationships. You'll have to wear a lot of hats, so a versatile education is best.
English
You'll need a strong set of English skills in order to become a publisher, because publishing requires editorial processes, as well as a knowledge of the literary market. Whether you become a commercial publisher that publishes popular fiction books or a literary publisher who runs a smaller press and publishes literary novels, you'll need a background in literature and writing. You need to know how to manage a team of editors and work closely with a managing editor, so editorial skills are necessary. These are skills built with an English major or minor in college.
Business Skills
Accounting and marketing are two areas you'll need to know well as the head of a publishing company. A publisher considers both holistic aspects of the book industry, as well as quantitative aspects such as market growth, sales numbers and publishing formats. Knowing the rules of accounting will help you keep a small press afloat or guide a larger press toward sound decisions that benefit the company financially and holistically. After all, you want to publish reputable, respectable books while also making sure that financial goals are met.
Marketing
A publisher needs to know how to market books and authors, which includes understanding public relations and advertising. As a publisher, you'll schedule book signings and events, send authors on tours and take your company to trade shows and conferences. You'll need to know how to develop relationships with other businesses. Business writing, marketing and management skills are all crucial aspects of these abilities. In college, you might major in business and minor in English or vice versa, but know that skills from both sides are necessary and studying only one side will leave you unable to handle certain conflicts and situations.
Internships
For an industry like book publishing, internships are crucial. Small presses are tight on budgets, and large presses are hard to crack into. Many students begin with internships in the editorial department to learn the ropes of the publishing industry. Later, they may become agents, editors or even authors. By your junior year, you should have scouted internship opportunities and sent out applications. Hands-on experience is crucial for an ever-changing industry like publishing, and you're more likely to have job opportunities after college if you already have contacts.
Photo Credits
Stockbyte/Stockbyte/Getty Images