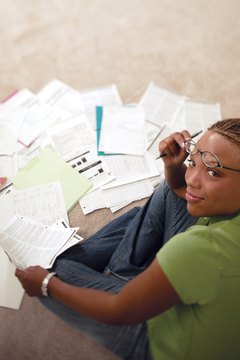 Condensing pages of research into an abstract can take time.
Condensing thousands of words in a research paper into a paragraph-long abstract sometimes feels harder to write than the original research paper. How do you decide what to leave in and what to exclude? Following some established guidelines makes the process less daunting and easy to complete.
Why Write Abstracts?
The University of North Carolina describes an abstract as "a self-contained, short, and powerful statement that describes a larger work". Why would a student or a writer need to submit an abstract? Any time research needs to be condensed; for example, a journal proposal presented for publication. Some journal editors don't want to read the entire article, just the abstract. Many times book proposals, applications for research grants, Ph.D. dissertations or master's theses call for abstracts. Checking any guidelines should provide information about the abstract – the length, word count, and purpose for that particular publication.
Indexing
Another main purpose of an abstract is indexing. Most databases allow for searching abstracts to retrieve full texts. Keywords found in the abstracts can provide better results than strictly searching titles, which might not contain exact search terms. Finding research information in a database using abstracts can also save researchers time, since reading the abstract first can tell the researcher if the full article will contain the research needed.
Follow Guidelines
Phillip Koopman of Carnegie Mellon University says abstracts should contain five general sections. The first part shows the motivation or why we should care about this topic. The second part, the problem statement, covers the scope of the work. Then, the approach section, or how the problem was solved, includes brief statements about methods used and the extent of the work. Include a statement about the results, including any variables that could affect the outcomes. Finally, in a concluding statement, discuss any implications of the research. Each of these parts of the abstract should only be about a sentence long. They do not need to go into great detail but they need to summarize the findings.
Other Considerations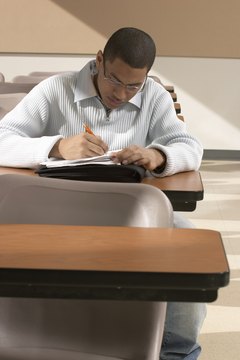 Taking the time to write a good abstract will give your work a wider audience.
Writing an abstract at the conclusion of the research writing process is easier than trying to write one at the beginning of the project. Always check word count requirements; writing too much or too little can cause your abstract and your work to be rejected. Any problems with your results should be addressed in the abstract using soft words like "might be" or "seem". Be sure to include keywords in your abstract to help researchers find your article in a database. These keywords are used to assign the paper to a group for peer review before publication.
Photo Credits
Comstock/Comstock/Getty Images