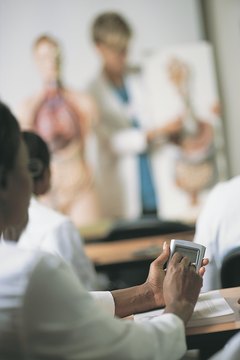 Getting good grades in college is just one step on the path to medical school.
High school students have several important steps ahead of them if they plan to go to medical school. In 2012, approximately 43.8 percent of people who applied to medical school were accepted, which means that being accepted to medical school is no easy feat. Students who hope to go to medical school need to earn excellent grade in college, take the Medical College Admission Test, engage in extracurricular activities and secure solid letters of recommendation.
Earn Excellent Grades at College
The first and most critical step that a student will take after high school if she wants to attend medical school is going to college. A student who hopes to attend medical school should earn excellent grades starting the first semester of their freshman year. College grade point average is given serious consideration when she applies to medical school. In 2011, the average college grade point average of applicants accepted to medical school was over 3.67.
Taking the Medical College Admission Test
The MCAT is a standardized test that prospective medical school students take in the calendar year prior to entering medical school. The test consists of three sections: Physical Sciences, Verbal Reasoning and Biological Sciences. Scores range from 1 to 15 for each section. Average scores range from 9.8 to 10.8, but a competitive applicant seeking admission to a top school will score 10 to 11 in Physical Sciences and 12 or higher in the Verbal Reasoning and Biological Sciences sections.
Engaging in Extracurricular Activities
Prospective medical school students should continually engage in a wide range of extracurricular activities, starting in high school. This can help a medical school applicant stand out from the crowd and prove to an admissions committee that he is well-rounded. It is important for students to participate in medical-based community service, which can include volunteering at hospitals, clinics, disaster relief organizations or blood banks. Non-medical community service and work with under-served populations are also important extracurricular activities for prospective medical school students, according to PreMedLife Magazine.
Securing Solid Letters of Recommendation
An important step toward the end of the process of applying to medical school is to secure solid letters of recommendation. These letters can provide the admissions committee with a better understanding of who the applicant truly is, so it is important that prospective medical school students carefully select their references. Faculty members or instructors, clinical supervisors and extracurricular activity managers are all possible choices. Once an applicant has selected his or her references, it is important to give the reference enough time to craft a letter and to provide specific instructions for submitting the letter.
Photo Credits
Comstock/Comstock/Getty Images