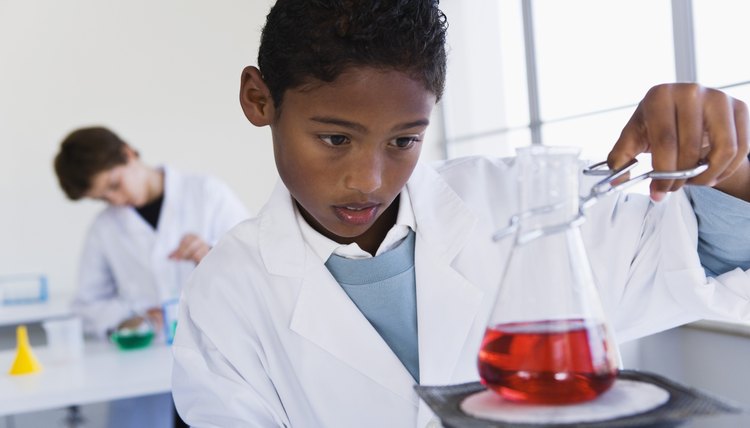 Middle school students conduct science experiments in labs as part of the scientific method.
The National Science Education Standards consider the study of science both a physical and mental activity. Students should conduct laboratory experiments and prepare projects, as well as "inquiry-oriented investigations with their teachers and peers." With these hands-on activities, they learn the real-world application of the scientific method, the process of questioning and applying the concepts they're learning to find solutions and ask new questions. Group discussions and active learning should take place throughout the middle school science curriculum, a mixture of earth sciences, life science and physical sciences to build on and develop in high school.
6th Grade Earth Sciences
The focus of sixth-grade science is on Earth science, including the study of earthquakes, volcanoes, geology, plate tectonics, rocks, tsunamis, floods, landslides and topography. Students study the earth's surface and the many layers that make up the planet. Weather is also a key concept in sixth grade science, especially as it pertains to pressure systems, clouds, atmosphere and humidity. Ecology and ecosystems are introduced to first-year middle school students, along with understanding the mechanics of the scientific process and experimentation as a whole.
7th Grade Life Sciences
Seventh-grade science curriculum centers on life sciences. Basic biology, including rudimentary cellular biology, genetics, cloning, reproduction and life cycles in both plants and animals are the chief topics of study. DNA, evolution and anatomy are also introduced to students, who map the systems of the human body, as well as the skeletal structure. Animal dissection is taught on lower life forms, such as frogs, and squid, and microscopes are introduced.
8th Grade Physical Sciences
Eighth graders study physical science principles, including velocity, distance, time, and speed. Structure of matter is discussed along with the periodic table and its elements. Basic chemistry and its components may also be introduced. Labs and experimentation take up a significant segment of classroom time as students prepare for group work and the more sophisticated experiments that will take place in high school the following year.
Current Science Topics
Middle school students also go over topical science news and current events. Scientific topics such as space exploration, robotics, technology, climate disturbances, global warming and water conservation are typically discussed in all middle school classes. Students may be asked to comb through newspapers, magazines and online sources to report on timely subjects of a scientific nature.
Photo Credits
Jupiterimages/Goodshoot/Getty Images