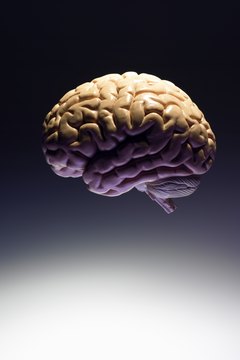 Cognitive psychology studies focus on brain-behavior connections.
A fascination with human behavior and cognition often leads to interest in a career in psychology. The field of cognitive or clinical neuropsychology, a branch of psychology, focuses on these connections between central nervous system performance and people's actions. Colleges offering cognitive neuropsychology majors teach students the anatomical, etiological, diagnostic and treatment concerns involving disorders of the brain.
University of California - San Diego
Bachelor's programs typically offer cognitive psychology as a concentration option within the psychology major, as exemplified at the University of California - San Diego. This program teaches students to work with patients struggling with memory, concentration, processing and reasoning issues. Beyond the general education credits that make up most bachelor's degrees, students opting for this concentration take coursework with titles like psycholinguistics, psychology of consciousness, concept of intelligence and memory and amnesia. At this level, the general cognitive psychology courses often include a lab component.
University of Colorado at Boulder
Other schools offer the cognitive psychology major as an interdisciplinary option, such as the program through the University of Colorado - Boulder. Students at CU may also enroll in a joint bachelor's/master's program for this major. After the general education undergraduate coursework that includes general psychology and a heavy science load in classes like chemistry and biology, these students study the connection between psychology and linguistics, computer science or philosophy. The graduate work covers research methods, perception, language, cognition and a thesis.
Binghamton University
Cognitive psychology majors more often appear as graduate school options. Binghamton University, for instance, offers both a master's and doctoral degree in cognitive psychology. BU's program builds on concepts of language, learning, perception and memory but also includes a teaching component, requiring students to present information from research to a cohort throughout the program. Ph.D. candidates must also take coursework that is outside of their area of concentration but related to it, such as psychopharmaceuticals, behavioral neuroscience or upper-level statistics.
Michigan State University
Michigan State University offers both a master's and Ph.D. in cognitive psychology with classes covering cognition, psycholinguistics and perception. Instead of focusing on teaching, MSU's program focuses on research. All graduate students work on a research project such as an experiment or data compilation for each year throughout their tenure in the program in conjunction with advanced classes. Doctoral students also complete a dissertation and pass a comprehensive exam. Master's students work on the project in lieu of a thesis.
Photo Credits
Creatas/Creatas/Getty Images